All Posts Tagged With: "Model Co"
Marta Walsh's Favorite Self-Tanner. Loving the Model Co Tan Gloss Shimmering Self-Tan which is a luxurious self-tanning gel for bronze and radiant skin and it smells really good, I would say light coconut.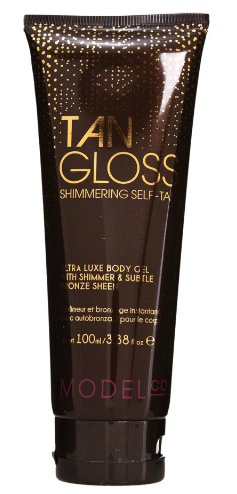 Model Co Tan Gloss Shimmering Self-TanUltra Luxe Body Gel With Shimmer & Subtle Bronze Sheen
ModelCo was founded by a former model agent Shelley Barrett in Sydney Australia.  ModelCo products are stylish yet practical.  Shelley Barrett's goal in mind when creating ModelCo was to bring to market products that were not available according to her models and stylists she worked with over the years. 
ModelCo Tan Airbrush In A Can is a self-tanner that puts an end to stained hands and uneven coverage.  Tan goes on as a fine mist leaving you with a smooth, natural-looking tan.  The deep golden pigment gives you an instant all-over healthy glow while the long lasting self-tanner develops underneath in hours.  Infused with hydrating aloe vera and the exotic scent of cocoa butter.  Tan delivers the perfect color with a 360-degree nozzle to cover all hard-to-reach areas.  You will need to exfoliate your body with a moisturizing body scrub. Apply Tan within 30 minutes after showering – when your skin is at is best to react with the active ingredients. Cover the floor area in which you intend to stand and spray. Shake can well. While holding the can at least 15 inches away from your body, spray in a light, even motion. Wait ten minutes before dressing and eight hours before washing to set and let the color completely develop.  Cost:  $7-$36 depending on bottle size. 
 
Exfoliate your body with ModelCo Polished Exfoliating Body Scrub before applying ModelCo Tan Airbrush In A Can.   Polished is an invigorating, deep cleansing body scrub that revitalizes and exfoliates the skin.  Infused with the stimulating and firming properties of bamboo and with the calming extract of the hibiscus flower, alpha-hydroxy compounds and natural sea salt particles to gently buff away aging skin cells and detoxify, renew, and tone your skin.  Cost:  $34.