This Spring, Kimora Lee Simmons will launch her newest fragrance that will inspire and excite fans and fragrance lovers alike. The launch of Baby Phat DARE ME perfume combines fragrance & fashion with empowerment and confidence, wrapped up in a young, sexy scent and bottle.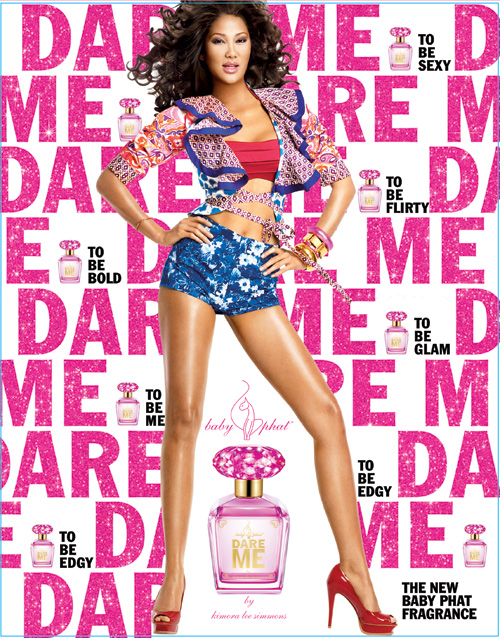 DARE ME: PRINT AD VISUAL. Photographer: Alexi Lubomirski. Shoot details: Los Angeles
Since partnering with international fragrance powerhouse Coty Inc. in 2005, Kimora continues to captivate the fragrance world with her bold new fragrance, DARE ME. This captivating and flirty scent is the essence of independence, designed to encourage girls and women of all ages to "own the catwalk and take center stage." The packaging taps into the fun, edgy and fabulous fashion that is at the heart of the Baby Phat brand. It dares to be noticed.
The luminous floriental fragrance opens with an intriguingly smooth coconut top note that blends into a heart of velvety blackberry crème and vanilla orchid with a sophisticated warm drydown of crème de musk and sandalwood. The fragrance is complemented with unabashed packaging and inspirational messaging that dares women to be fearless, smart, glamorous and sexy.
As a mother, a successful entrepreneur, philanthropist and style icon, DARE ME is the first fragrance to fully express Kimora's dedication to inspiring young women to play the game of life by their own rules. Kimora noted, "I wanted to create a fragrance that makes women feel like they can conquer anything their hearts desire. To me, DARE ME, is the absolute essence of girl power. I went from being a shy teenager to the woman I am today by daring to be bold, fearless and comfortable in my own skin. My new fragrance embodies all of these aspects of how I want women to feel and I can't wait to share it with my fans."
"Over the past 5 years, Coty and Kimora Lee Simmons have been working hand-in-hand to create a fashion-forward fragrance portfolio that embodies Kimora's natural charisma and over the top lifestyle," stated Steve Mormoris, Senior Vice President of Global Marketing at Coty Beauty. "Now, with the launch of her newest fragrance, Kimora offers a new twist on her existing fragrance collection that captures the fun, sexy and youthful spirit of the Baby Phat Fashion Brand."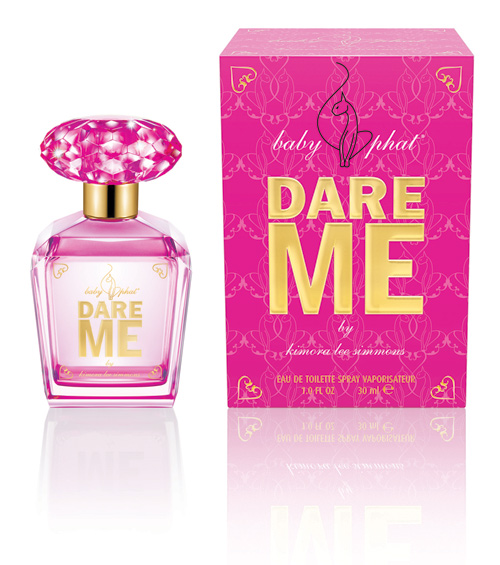 DARE ME: THE FRAGRANCE
DARE ME is the 5th fragrance that Kimora Lee Simmons has created since partnering with Coty in 2005 and targets women ages 16 – 24 years old. The fragrance, which is on-counter Spring 2010 in the US, Canada and Puerto Rico, embodies a youthful style and spirit and is designed to exude confidence, independence, power and sexiness.
DARE ME: THE SCENT
A luminous floriental
Top Notes: Daring Magnolia & Island Coconut
Mid Notes: Audacious Southern Honeysuckle & African White Milkwood
Bottom notes: Confident Crème de Musk and Sandalwood
DARE ME: ADVERTISING CONCEPT
The DARE ME print ad takes a fast fashion approach to traditional fragrance ads. Ad campaign can be described as BOLD, CONFIDENT, AUDACIOUSLY SEXY AND FUN
DARE ME: THE PACKAGING DETAILS
Carton: Hot fuschia pink carton with a unique all over signature Baby Phat cat pattern and embossed metallic gold graphics and inspirational messages from Kimora
Bottle: Hot fuschia pink bottle and jeweled cap with metallic gold details that echo the fragrance – youthful spirit with unique independent sexiness
Personalized Message on Carton
Kimora noted, "It was extremely important to me that my new fragrance help inspire young women. My goal was to send a strong and very real message about independence and empowerment. In doing so, I wrote an inspirational quote (inscribed on the DARE ME carton) for young women."
The Collection Includes
Eau de Toilette 1.0 oz / 30ml $28.00
Eau de Toilette 0.5 oz / 15ml $17.00
Eau de Toilette Travel Size $12.99
Baby Phat DARE ME will be available April 2010 in select stores nationwide, such as Walgreens, Target and Kohl's.
For more information about the Baby Phat fragrance range please visit www.babyphatfragrances.com