TRÈS CHIC! Wear it with style… a new fragrance from Celine Dion Parfums.
Coty Inc. announces the launch of Celine Dion Chic, a new fragrance inspired by the fashionable spirit of Celine Dion, one of the world's most captivating and dynamic artists.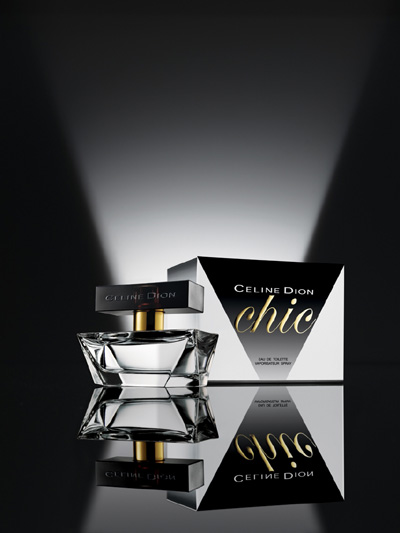 Celine Dion Chic is a fresh approach to fragrance, enveloping women with a sublime feeling of luxury without being pretentious. It combines the perfect blend of effortless sophistication, poise and playfulness. Inspired by Celine Dion's incredible sense of style, youthful spirit and dynamic attitude, this fragrance appeals to all types of women.
"Celine Dion Chic is for the woman who seeks affordable luxury, who wants to project a sense of style with confidence and glamour" says Steve Mormoris, Senior Vice President Global Marketing.
"I am thrilled to have partnered with Coty on another exciting new fragrance," said Celine Dion. "For me, this fragrance truly embraces the glamour of fashion with a sophisticated edge. I hope all women feel as elegant and feminine as I do when wearing this fragrance."
Celine Dion Chic will be available in April 2009 to celebrate the conclusion of Celine Dion's 'Taking Chances' World Tour. Celine's first worldwide concert tour in over nine years has been playing to sold-out stadiums and arenas since it commenced in South Africa on Valentine's Day 2008. By its completion at the end of February 2009, it will have crossed five continents, 24 countries, and 95 cities, en route to playing for an audience of over 3 million people. The tour, which took Celine to countries that she had never been to before, has made stops in Asia, Africa, Australia, Europe, USA and Canada.
Celine Dion Chic The Fragrance: Created by Patricia Choux of Symrise, Celine Dion Chic draws upon Celine's approachable elegance, establishing a harmonious balance of ease, self-confidence and couture.
Top Notes
Aquatic Greens, Watermelon
Middle Notes
Peony, Drenched Gardenia, Lotus Flower, Green Violet
Dry Down
Blond Woods, Sandalwood, Amber, Musk
THE PACKAGING: The classical elegance of the Celine Dion Chic bottle is defined with architecturally sound lines and prismatic carved edges that capture V (five) facets representing the number five, Celine Dion's lucky number. The glass is complemented by a sleek black cap and reflective gold collar for a monochromatic look.
THE COLLECTION
Eau de Toilette (0.5 oz) $16.00*
Eau de Toilette (1.0 oz) $26.00*
Eau de Toilette (1.7 oz) $32.00*
*All prices noted are Suggested Retail Price
Celine Dion Chic is available beginning April 2009.