Christina Ricci Wears NARS to the 2010 MoMA Event!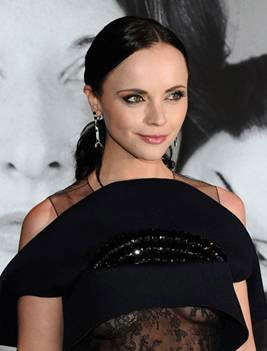 Christina Ricci attended last night's (June 1st, 2010) show closing celebration of Marina Abramovic's "The Artist Is Present" at New York's Museum of Modern Art. "I wanted Christina's look to exude edgy classic noir," says NARS National Makeup Artist Francelle . "It's all about the eyes. We kept them classic but infused edginess by adding green tones."
Face
· NARS PRO-PRIME Skin Smoothing Face Prep
· NARS Siberia Sheer Matte Foundation
Eyes
· NARS PRO-PRIME Smudge Proof Eyeshadow Base
· NARS Galapagos Eyeshadow
· NARS Misfit Duo Eyeshadow
· NARS Aigle Noir Soft Touch Shadow Pencil
Lips
· NARS Harlow Lip Gloss
NARS Cosmetics can be purchased at www.narscosmetics.com.