COVERGIRL releases limited edition cosmetic bag collection with tredsetting accessory company, LeSportsac. Have you tried their travel bags and makeup bags, they are amazing and the best. Marta Walsh loves!:)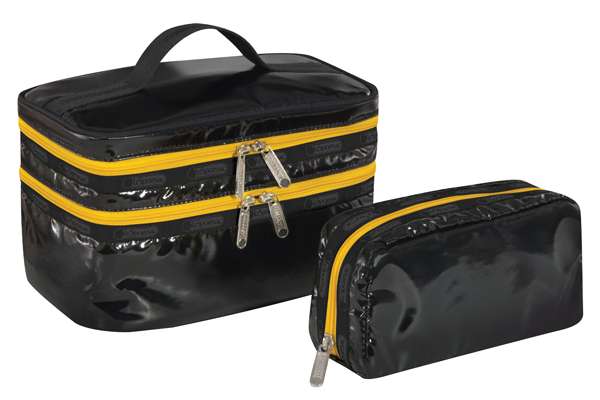 Taking inspiration from the slender yellow tube of COVERGIRL LashBlast Length Mascara containing Elasta-Nylon formula, COVERGIRL launches the latest beauty accessory, a limited edition LeSportsac nylon cosmetic bag designed by legendary makeup artist and beauty guru Pat McGrath.
A Brilliant Beauty and Fashion Collaboration. Pat is a makeup master whose influence in the beauty and fashion world is inarguable as she has collaborated with some of the world's most sought after designers. Pat's eye for beauty and fashion sparked an organic partnership between LeSportsac and COVERGIRL. "I'm very excited about this collaboration between two iconic brands," says Pat McGrath, Global Creative Design Director for P&G Beauty. It's been a great experience for me to work with both brands and combine my two passions of fashion and beauty. The limited edition nylon cosmetic bag, inspired by my favorite mascara—LashBlast Length – is luxe and perfect for holding all your beauty essentials."
LeSportsac is no stranger to collaborating with notable trendsetters with a roster that includes Stella McCartney and Gwen Stefani. "Pat McGrath is a world renowned makeup artist whose creativity and eye-catching beauty looks inspired us to originally create the 'Pat' bag in 2007," says D'Arcy Jensen, Chief Creative Director and VP Brand Development.  "Teaming up with Pat and COVERGIRL on a limited edition nylon cosmetic bag allows us to pay homage to a beauty inspiration and an iconic cosmetic brand. A beauty-focused collaboration is a new venture for LeSportsac; we are thrilled to have the opportunity to create a cosmetic bag specifically for our beauty loving consumers!"
Design and Availability. The inspiration behind the design of the limited edition nylon cosmetic bag is Pat McGrath's "all black" uniform at Fashion Week as well as the sexiness of her latest ad campaign for COVERGIRL Blast products with CoverGirl spokesmodel Drew Barrymore. Both of these elements combined with the packaging of LashBlast Length Mascara led to the nylon cosmetic bag's chic and sharp design.
The black on black patent design of the nylon cosmetic bag, coupled with the bright yellow zipper makes for the ultimate summer accessory. The limited edition nylon cosmetic bag also includes a tube of LashBlast Length Mascara for a dramatic fan of ultra-long lashes, and a coupon for COVERGIRL Blast boutique of products as a gift with purchase. The Pat McGrath-designed bag is available in two styles "The Pat" and "The Page," and retails for $28 and $62 respectively. The cosmetic bags will be sold at LeSportsac boutiques and on LeSportsac.com beginning in June 2010.