All Posts Tagged With: "LeSportsac"
COVERGIRL releases limited edition cosmetic bag collection with tredsetting accessory company, LeSportsac. Have you tried their travel bags and makeup bags, they are amazing and the best. Marta Walsh loves!:)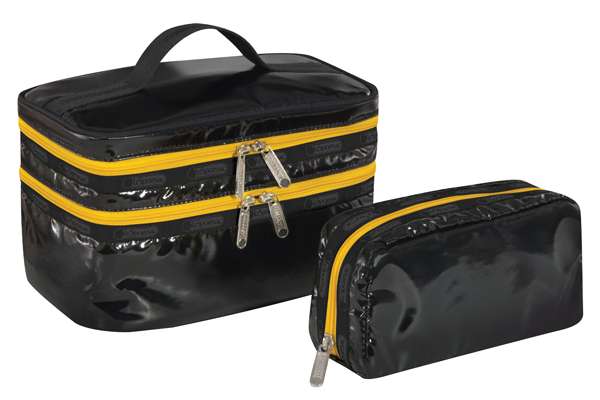 Taking inspiration from the slender yellow tube of COVERGIRL LashBlast Length Mascara containing Elasta-Nylon formula, COVERGIRL launches the latest beauty accessory, a limited edition LeSportsac nylon cosmetic bag designed by legendary makeup artist and beauty guru Pat McGrath.
GIVEAWAY: Watch Marta's Vlog and enter to WIN 3 LeSportsac makeup bags! 1 lucky winner gets all 3: 7212 Pencil Case, 7158 3-Zip Cosmetic, and LeSportsac Cosmetic Case Page Train Case in Passion Fruit patent.
Just recently, Kourtney Kardashian gifted every guest at her baby shower with LeSportsac bags.
How To Enter to WIN:
1. Watch the LeSportsac Makeup Bag giveaway video HERE!
2. SUBSCRIBE to TalkingMakeup's YouTube Channel! You MUST be a subscriber to win.
3. Leave a comment in the comment area ON YOUTUBE!
Good luck! xoxo Marta Walsh
See the 3 LeSportsac makeup bags Talking Makeup is giving away!
All too often, fashionistas are faced with an age-old dilemma: go practical, or stay stylish. Thanks to Bath & Body Works and LeSportsac, this winter you don't have to choose. For a limited time, LeSportsac is offering its iconic collection of bags with Bath & Body Works PocketBac waterless hand gel, providing a stylish way to keep hands healthy. This season, trade in the typical clinical hand sanitizer for Bath & Body Works' equally effective alternatives in fashion-forward scents. Paired with matching LeSportsac bags, the colorful formulas kill 99.9% of germs, offering clinical strength without the clinical scent.