Few weeks ago I had the luxury to visit the Elizabeth Arden Red Door Spa at the Biltmore Fashion Park on 24th St & Camelback Rd in Phoenix Arizona. Needless to say, Biltmore is one of the fanciest locations in Phoenix and I'm always up for chic trips. Before I tell you my story I want to say: Wow! I had the best facial in a long time thanks to Lucy Olson (can one have such great connection with your facialist? I know I did. Lucy was the sweetest.)
As soon as I walked into the red door spa in Phoenix I felt immediately relaxed. I changed into a robe and comfortable slippers and even signed my form in that very relaxing outfit. The music while having my Antioxidant Defense Facial was so relaxing. Although Lucy was very friendly she insisted on stop talking as soon as my facial began. Isn't this what we want? She understood what it takes to get relaxed and escape the day to day life.
While at the red door spa I fell in love with the PREVAGE skin care line by Elizabeth Arden. Already a big fan of INTERVENE by Elizabeth Arden I was glad to be introduced to another star skin care collection.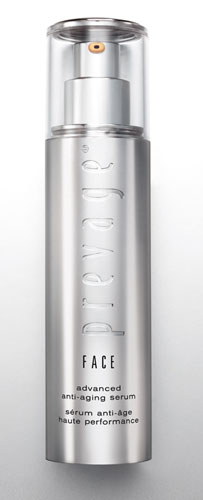 PREVAGE Face Advanced Anti-aging Serum by Elizabeth Arden
Girls, if you are planning to get married, it's Valentine's Day, you want to get papered before a big date, or just any time you want to feel super relaxed and beautiful visit the red door door spa near you. It made Marta feel like a whole new woman 🙂
Red Door Phoenix Day Spa
Phoenix Biltmore
2472 East Camelback Road
Phoenix , AZ 85016
(602) 553-8800 (phone)