Estée Lauder is excited to share the Blacker Than Black Makeup Collection (limited edition, launching December 2009) for a vampy, dramatic eye look. Just in time for holiday parties, six mascaras are introduced in a jet-black, sleek formula for lashes that draw all the attention while the Eyeshadow Quad in Black Smoke (permanent addition) creates that coveted smokey eye.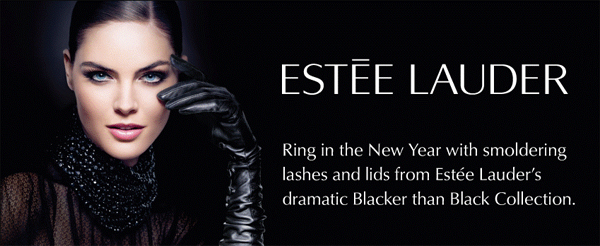 Now beautifully bold, dramatic eyes are just a wave of the wand away. Don't be shy, make your eyes the center of attention with Estée Lauder's new Blacker Than Black eye collection. This unique collection features six of Estée Lauder's most popular mascara formulas each in a richer, more concentrated, more dramatic black shade for eyes that appear bigger, bolder, more dramatic! Because the mascara is so concentrated, it creates a contrast that defines and frames the eyes for a look that is at once highly sophisticated and utterly alluring. And, whether your look calls for lashes that are lengthened, defined, volumized, lifted, curled or a combination, you can achieve the look you want as each of these luxurious mascaras offer the same unique benefits as their original formulas, but now with the deepest, intense jet black effect.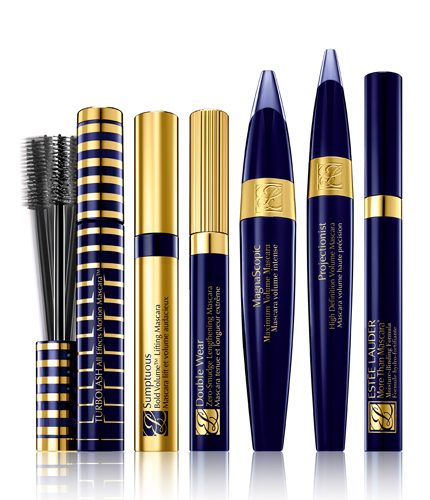 Complete the look with the Blacker Than Black collection's new Signature Eyeshadow Quad in four sultry, beautifully smoky shades that add even more to the bold look and Double Wear Stay-in-Place Eye Pencil in an intense black shade that adds luxuriant definition and complements perfectly the mascaras' rich black hue.
Be bold and dress your lashes and lids in dramatic Blacker Than Black for a rich, smolderingly smoky eye—for day, for night, for any event.
A Selection of Richly Saturated, Intensely Black Mascaras
To achieve the intense jet black color, the scientists at Estée Lauder maximized color intensity and opacity using select Carbon Black and Black Iron Oxides and putting the pigment through an ultrasonic process. The result is pure, dramatic and intense jet black in a collection of six luxurious mascaras:
Double Wear Zero-Smudge Lengthening Mascara in Blacker Black offers dramatic length and sensationally long wear in one effortless stroke and won't budge, smudge, smear or flake for up to 15 hours.
Sumptuous Bold Volume Lifting Mascara in Bold Black turns even your sparsest lashes into daringly full, lavishly lifted lashes without the clumping, spiking or weight normally associated with volumizing mascaras.
Projectionist High Definition Volume Mascara in Jet Black envelops each individual lash with high volume and exceptionally sharp definition for a sleek, striking look.
TurboLash All Effects Motion Mascara in Turbo Black combines an innovative formula and brush design with a unique, power-performing, micro-pulsing effect that enables the brush to penetrate deep into the lash bed and comb through lashes more quickly and effectively, delivering all effects – volume, length, definition, separation and curl – in one tube.
MagnaScopic Maximum Volume Mascara in Black transforms lashes with dramatic volume, making them appear extravagantly full for a powerfully eye-opening effect.
More Than Mascara Moisture Binding Formula in More Black features a moisture-binding formula that conditions lashes as it defines and separates them for a look that's smoother, fuller and longer.
All mascaras are Ophthalmologist-tested, safe for contact lens wearers and sensitive eyes and fragrance-free. Each uses the same great brush design as used with the original mascara. For easy removal, try Estée Lauder's Take It Away Total Makeup Remover or LongWear Makeup Remover Towelettes. Double Wear Zero-Smudge Mascara removes easily with warm water and cleanser or any Estée Lauder long-wear makeup remover.
Sultry, Smoky Eyeshadows and a Sleek, Intense Eye Pencil
The Blacker Than Black collection of mascaras is perfectly complemented by Estée Lauder's new Signature Eye Shadow Quad in Black Smoke. This dramatic eyeshadow quad includes four beautifully rich shades to create the perfect smoky eye. The eyeshadow features a silky, microfine powder that won't crease, gliding smoothly onto lids and blending seamlessly for a flawless look that stays-true all day. Packaged in a signature navy blue compact, this attractive compact can go anywhere for a glamorous day-to-night transformation.
Instantly frame eyes and complete the look of rich, smoky intensity with Estée Lauder's Double Wear Stay-in-Place Eye Pencil in Onyx. This pencil's unique lightweight, creamy formula glides on effortlessly for rich, stay-true color that sets in seconds and wears for 12 hours.
Turn heads with a sophisticated and smoldering dramatic eye look with Estée Lauder's Blacker Than Black collection. Wear it on impulse. Wear it for fun. Wear it and get noticed!
Available at Estée Lauder counters nationwide and www.esteelauder.com beginning December 2009.
Product Lineup SRP
• New, Limited Edition Double Wear Zero-Smudge Lengthening Mascara in Blacker Black $19.50
• New, Limited Edition Sumptuous Bold Volume Lifting Mascara in Bold Black $19.50
• New, Limited Edition Projectionist in Jet Black $19.50
• New, Limited Edition TurboLash in Turbo Black $32.00
• More than Mascara in More Black $19.50
• Magnascopic in Black $21.00
• New Signature Eyeshadow Quad in Black Smoke $35.00
• Double Wear Eye Pencil in Onyx $19.00