Estée Lauder Introduces the Sensuous Gold Color Collection: This month, Estée Lauder introduces the limited edition Sensuous Gold, a uniquely feminine, luxurious new color collection for fall 2009.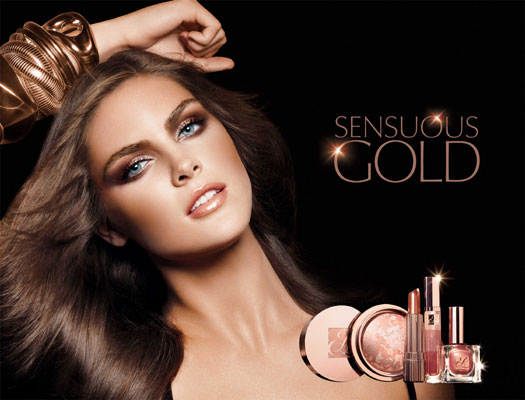 As temperatures begin to dip with the coming of fall and the days grow shorter, thoughts turn to spending time closer to home in familiar places. Favorite local jaunts beckon as you envelop yourself in the warmth and comfort of the season's soft layers of luxurious matte jersey, cotton blend and silk organza fabrics that caress every curve for a sensuous silhouette. Beautiful keepsake pieces, such as rich golden lockets and charms, compliment the fluid fabrics and add an element of mystery for a look of understated elegance and soft femininity.
Inspired by the ease and sensuality of the season's fashions, Estée Lauder has created Sensuous Gold – a uniquely feminine, luxurious new color collection for fall 2009. Using soft nuances of color with rich tints, tones and washes, Sensuous Gold gently brings out an inner radiance and reveals the softer side of every woman. Skin is luminous, warm and radiant in a soft veil of golden tones. Eyes are delicately defined in soft shades of golden amber and peach accented by rich, regal amethyst. Lips are luxuriously dressed for the season in sateen finishes of coppery nudes and supple plums. Sensuous Gold creates a look that is at once sophisticated, luxurious and naturally feminine. Completing the impression is the distinctly modern and luxurious rose golden packaging.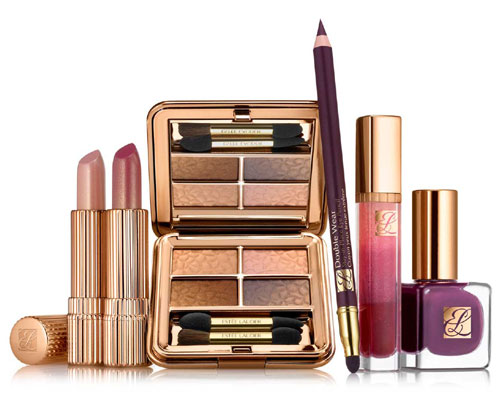 Soft Luminosity and Sheer Radiance for Face: Taking cues from the fluid movement of the season's flowing fabrics, NEW Estée Lauder Signature 5-Tone Shimmer Powder for Eyes, Cheeks, Face has a unique wave-like tablet design of five beautifully sheer, iridescent shades combined in one luxurious, signature navy blue compact. Available in two unique shade palettes – a cool Pink Shimmer shade palette and a warm Bronze Shimmer shade palette, Signature 5-Tone Shimmer Powder for Eyes, Cheeks and Face complements any skin tone. Each of the two powders' luxurious, silky shades can be used alone on eyes and cheeks for precise color and highlighting or can be blended together for a soft, luminous glow on face, shoulders and décolletage. Weightless and incredibly silky, the powder's high-pearl formula is color-true and provides an even, buildable application that won't streak or settle into pores. Apply it liberally for a luxuriously soft, luminous radiance that glows.
Like the dramatic impact of a well appointed piece of jewelry, Estée Lauder's NEW, Limited Edition Gilded Rose Marbleized Shimmer Powder is a luxurious handcrafted, marbleized domed face powder of illuminating rose gold tones that shimmer like precious minerals. Inspired by Italian marble crafts and artistry, the mineralized powder provides a dimensional, yet natural shimmer in a perfectly sheer wash of luminous color. Plus, the powder's unique, shimmering formula is comfortable to wear, thanks to a sophisticated baked powder technology that gives the powder an incredibly creamy feel on the skin. Silky, smooth and luminous, the powder is appropriate for all skintones and comes encased in a luxurious rose golden boudoir powder box with a specially designed half moon brush for the perfect application.
A Veil of Luxurious Color for Eyes:  Create a decidedly feminine and romantic eye look this fall with soft, silky gold tones complemented by beautifully rich plum shades. Estee Lauder's NEW, Limited Edition Signature Eyeshadow Quads in new, limited palettes of Rose Gold and Rose Amethyst feature a unique hammered gold texture and have been sprayed with a multi-dimensional pearl for a luxurious "crystallized" effect that delivers luxurious buildable color to eyes. Whether it is a soft, subtle look or more dramatic effect you wish to achieve, the Signature Eyeshadow Quads make it easy, enabling you to mix, match and blend each of the four eyeshadow tablets to expertly create the look you want. Packaged in a specially designed signature compact that has been dressed in rose golden for an ultra-luxe look and feel, the Signature Eyeshadow Quads makes precision application a breeze with its coordinating dual ended applicators.
For additional allure, line eyes with the Double Wear Eye Pencil in luxurious shades of Bronze and Black Plum and complete the eye look with Sumptuous Mascara in Black for sumptuously full volume, expertly defined lashes.
Silky Soft, Sateen Shades for Lips: Add a beautiful veil of high shine and multi-dimensional effects to lips with New, Limited Edition Pure Color Multi-Shimmer Gloss in Rose Gold and Rose Amethyst. This sensuous, high shine, emollient gloss features three tones of semi-precious color in one elegant package, which when opened, combine together into one perfect shimmering shade that can be applied alone or over lipstick for a sensual lip look. Pure Color Multi-Shimmer Gloss has a unique, creamy texture that envelops lips, so lips feel comfortable and moisturized and not sticky or tacky.
Like the silky, soft feel of fine lingerie, Estee Lauder's Signature Lipstick in NEW, Limited Edition, sensuous shades of Cinnamon, Terracotta, Rose Amethyst and Plum Amethyst, glides onto lips with exceptional moisture and shine. Packaged in a contemporary new rose gold color fluted case, the lipstick features a multi-dimensional pearl overlay for an added touch of shimmering illumination.
Complete the Sensuous Gold look with nails perfectly polished in NEW, Limited Edition shades of Rose Gold and Black Amethyst, and leave a lasting impression with Sensuous, a warm, inviting, woody amber fragrance that captures the many facets that make today's woman so complex and fascinating.
Sophisticated, feminine and luxurious, the Sensuous Gold Color Collection will be available for a limited time at Estée Lauder counters nationwide and on www.esteelauder.com   beginning July/August 2009.
Base Look for Face: Suggested Retail Price
*New Estée Lauder Signature 5-Tone Shimmer Powder for
Eyes, Cheeks, Face in Pink Shimmer and Bronze Shimmer $36.00
New, Limited Edition Gilded Rose Marbleized Shimmer Powder $36.00
Sumptuous Mascara in Black $19.50
For the Sensuous Gold Look:
New, Limited Edition Signature Eyeshadow Quad in Rose Gold $35.00
Double Wear Eye Pencil in Bronze $19.00
New, Limited Edition Signature Lipstick in Cinnamon $19.50
New, Limited Edition Signature Lipstick in Plum Terracotta $19.50
New, Limited Edition Pure Color Multi-Shimmer Gloss in Rose Gold $18.00
New, Limited Edition Pure Color Nail Lacquer in Rose Gold $18.00
For the Sensuous Amethyst Look:
New, Limited Edition Signature Eyeshadow Quad in Rose Amethyst $35.00
Double Wear Eye Pencil in Black Plum $19.00
New, Limited Edition Signature Lipstick in Rose Amethyst $19.50
New, Limited Edition Signature Lipstick in Plum Amethyst $19.50
New, Limited Edition Pure Color Multi-Shimmer Gloss in Rose Amethyst $18.00
New, Limited Edition Pure Color Nail Lacquer in Black Amethyst $18.00
*Available starting September 2009