Go behind the scenes with G-Star RAW as they interview Liv Tyler during the G-Star  RAW Spring/Summer 2010 campaign photo shoot in Paris.
G-Star: How did your career get started?
Liv Tyler: I was very young and it all happened very rapidly. I was fifteen or sixteen when I got my first part. At that time I lived in NY and I was already a model. I went on a few auditions and got my first part pretty quickly after that.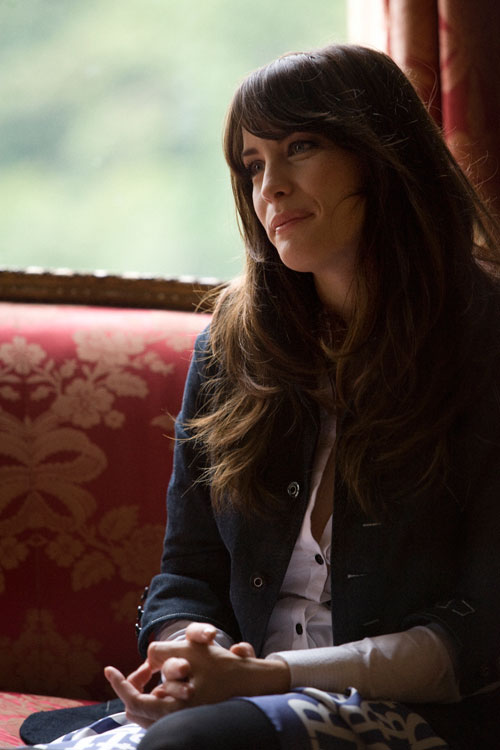 G-Star: Have you always wanted to work in the film industry?
LT: My mother used to tell me I was going to be an actress when I grew up, because I was always dressing up in her outfits and performing, singing and dancing around the house. I think I just wanted to be a punk rock singer. My mom used to have Iggy Pop records that I listened to all the time. I would take the top of her four poster bed and pretend it was a microphone. I probably wanted to be a singer more than anything, just like my mother who was in a punk rock band in the eighties. Somehow I became an actress.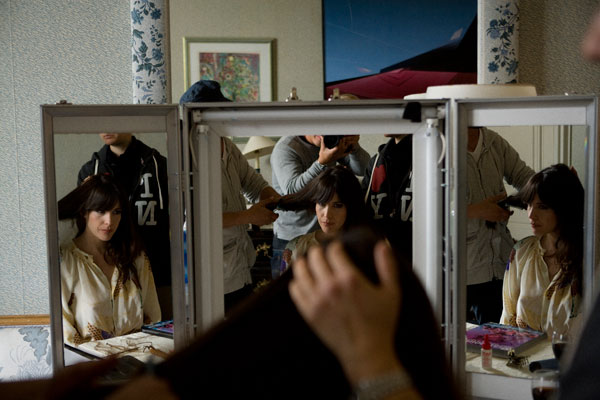 G-Star: What do you like most about your job?
LT: For me it is not always the finished product or the outcome that is most important but more often it is the experience of making the film that I find so extraordinary or special. It all blurs into each other. Sometimes it is the most simple little memory or the group of people that you were working with that made it magical in a way. So in that sense I would say every film has very important special memories to me. Some stick out more than others, like working with Bernardo Bertolucci on Steeling Beauty when I was seventeen. I'd just graduated from high school that summer and turned eighteen on the set. It was a really important summer in my life as a young girl.
I also made a film with Robert Altman in the south, called Cookie's Fortune. We shot in this tiny tiny little town in the middle of nowhere called Holly Springs Mississippi. The town was basically the set. I like shooting on location a lot; to be in a place where you are outside of your own world.
G-Star: How do you prepare yourself for a role?
LT: It depends on the part, but normally I read, think, dream a lot and ask a lot of questions. It is a slow process of becoming and imagining being in the world of that person.
G-Star: What is your biggest worry about your work?
LT: There are so many. There is a lot of anxiety that comes along with being an actor because you never really know when your next job is going to be or when you'll find the right thing you feel passionate about. I think that has always existed in this job. Even in Shakespearian times acting was not considered as a real job since you would never know when you would have work again. I think it is still the way it is unless you are doing a television show or a Lord of the Rings for example. That was a nice long chunk of time. We worked on that for 1.5 years. It is just such an intense experience over such a short amount of time and then it ends and you do not know when the next thing is going to happen. Of course things continue to happen, but it is that wondering feeling that creates the anxiety.
G-Star: What is your relation with fame?
LT: I don't have that figured out yet, I just go with the flow. It has always been my job, so I do not know anything else. I guess I saw a lot of things happen to my parents and to people I grew up around. I might there for have a slightly different view on things in that I'm the second generation of it. I've seen a lot of people going through the glory and the failure, and the highs and the lows of it all, so that gave me a different kind of perspective. And I try as much as possible for the two worlds like my own and my family, and my work to not collide all the time. They are so very different and that can be stressful in itself because they are so extreme. I don't have it all figured out.
I also feel like the world is really changing and evolving and I'm sometimes feeling I'm living in the stone ages. I have a very old-fashioned view on things because I grew up around musicians. I remember I would be a child and my father or my step father, Todd Rundgren, or Steven Tyler, would go off on tour or make a record and they would work so hard. And when they would come home, they would be really normal men. They both lived in the country, had animals, tractors and a farm. There was a very big difference between those worlds and they didn't constantly make records. They would make a record every couple of years. That is something I grew up seeing and that feels very natural to me. So in my career I would always work quite hard, make 1 or 2 movies in a row and then I would naturally take a chunk of time off to grow, reflect and get back the things that I need to be able to give in my work. I feel that the world has changed a lot whereas you are expected to work all the time and everybody wants to know what you are doing next. It is a more fast paced, more media driven world now.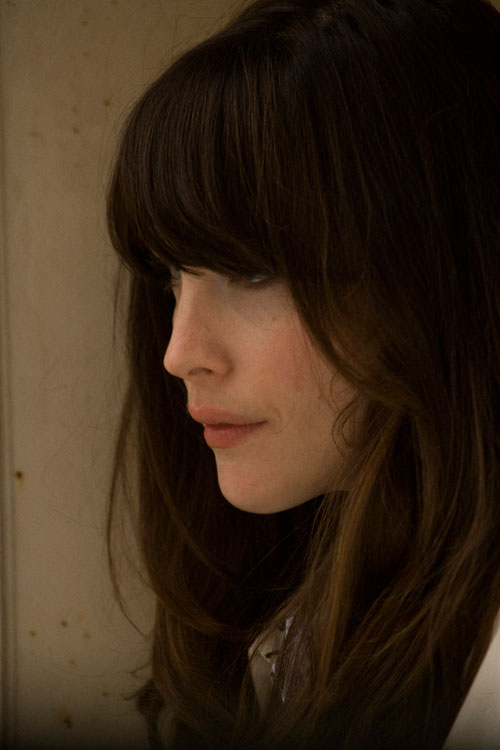 G-Star: Where do you live now?
LT: Well my house that I own is in New York so I consider that my home, but I've been renting a house in California for a few months. Right now I'm going back and forth and exploring different places. I'd never lived in the West Coast before. I was raised on the East Coast, so I was always really curious what it was like out West. I thought it would be good for me to experience that. I'm kind of an adventurer in a way. I really like to travel. I went through a difficult time in my life with a lot of changes and I liked the idea of leaving the shores I knew behind and going to a new land, a new frontier to see what it was like. So, I've been doing that. I do not think I can live in the West for ever, but it is fun for a little while.
G-Star: How would you describe your style?
LT: It is funny because I'm kind of a tomboy at heart. When I grew up, I was a tomboy, but then I had this very womanly body and I was very tall. By the time I was eleven I was 5 feet 10. So it strange, I'm like a girly tomboy. I don't even know how to describe it. In my everyday life I like to be comfortable. I would wear Converse, All Stars or flats every day or little dresses or jeans. I am very simple but then I almost go into a character when I get dressed up. I enjoy or try to embrace my womanly body a little bit more.
One of the things I like so much in the whole world of fashion is how creative it is and how there is so much freedom for people to create and to be creative and to come up with such kind of exiting wacky interesting scenarios and images. I am quite fascinated by it and I enjoy the process of it a lot. I love doing photo shoots and I love seeing the structure of the clothing and how things are being made. I really appreciate the art of it I guess.
G-Star: How do you feel about the brand G-Star? How would you describe it?
LT: I actually wrote down five words: unique, strong, raw, comfortable and cool. When I had first been asked if I would be a part of this campaign with them, I got this really incredible book about them and I couldn't believe it was sort of whole world. I love how there were bicycles and there was a car and the store looked so interesting and I really liked the very raw sort of earthy not broken down denim aspect a lot and I thought it was very unique and cool, and the shape of the jeans I think is very specifically them which I like a lot. I'm still learning about them. This is the first time I have worked with them. I really wanted to go to Holland to do the shoot, because I wanted to see where they made everything and investigated a little bit more, but I guess I have to do that another time.
G-Star: What does Raw mean to you?
LT: I guess just something very real. There is nothing fake about it: real, authentic and unfuzzed.
G-Star: What makes the ultimate female jeans?
LT: A good butt is very important. I really like dark denim and I like it when they naturally wash out in lighter denim. I like it starts out really raw and dark, then slowly kind of fades. For me I like it when the waist is not too constricting, when the waist fits really well, so it doesn't dig in any chubby parts and shows a good cute butt. Just something that looks not too…something a bit classic I guess. You should look comfortable in them, like they suit you and fit your body well.
G-Star: Are you involved in charity or ecologic goals?
LT: I do not have one specific thing that I only work with. I somehow wind up doing a lot of things. People will come to you and ask you. I work with UNICEF and with another charity called 'keep a child alive' more regularly and something in York called 'free arts'. Generally anything that has to do with children and the welfare of children I'm very passionate about and want to be involved in as much as possible. I'm looking for some specific thing I could focus a little bit more intensely on. I'm always asking around and looking for that. But I do enjoy seeing all the things that are out there. I just did something recently with my girlfriend Stella McCartney for this beautiful film called Home. I can not pronounce the directors name, it is a French director, it is beautiful. That film was really amazing really interesting it is also shot from above. Looking down at Mother Nature, it was really incredible and I felt really exited to be a part of that with her. I enjoy learning as much as I can, also while being involved in those kinds of charitable things.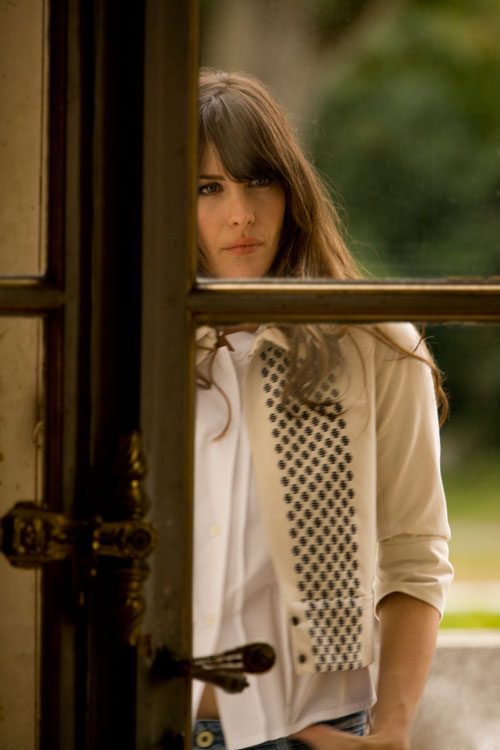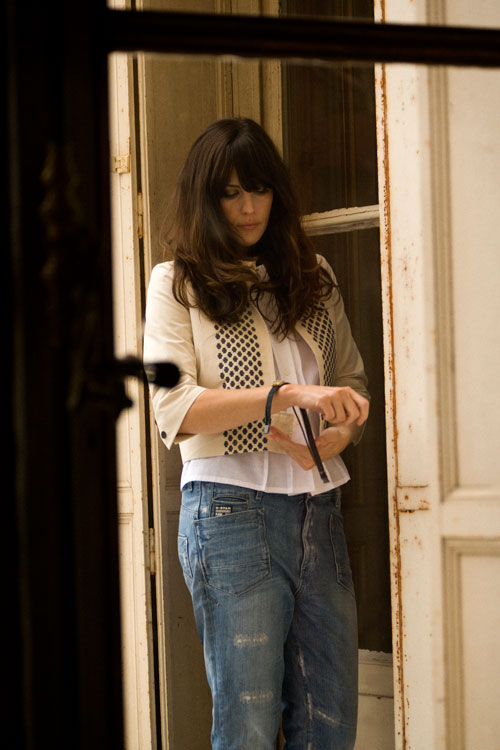 G-Star: Where you involved in this film?
LT: No, she asked me to co-host an event with her to bring awareness to it. I did not have anything specifically to do with the film.
G-Star: What music is currently on your I-pod?
LT: What isn't, I have thousands and thousand of songs on my I-pod. I press shuffle all the time. Anton (Corbijn) has an incredible I-Pod, we have been listening to. A friend gave it to him. It has 8000 songs on it and it is consistently on shuffle, it's great. I actually usually listen to whole albums. I do not like to listen to one song, but like to listen to the whole album. Like the other day I was listening to Sticky Fingers, of the Rolling Stones, my favorite album. I like a band called Band of Horses, and MGMT and I listen to Gram Parsons a lot. I try to stop myself because I listen to it so much. I try and take little breaks from it but I never get tired from it. I am a big music person so I have a lot of music.
G-Star: And do you play any instrument?
LT: I don't. I play the auto harp a little tiny bit. And I always want to take lessons, guitar lessons and piano lessons at sometime when I have time, when I am at home, which is not that often. I would love to take a year off and do nothing but go to music school because I really love, love music a lot.
G-Star: Don't you sing?
LT: I do a little bit. Depends on what your definition of singing is. I love to sing.
G-Star: Is it a project for you, to do something with music?
LT: I have always wanted to do a musical, to do a film where I get to sing and dance. That is something I always thought of when I was a kid. I would just love to do that.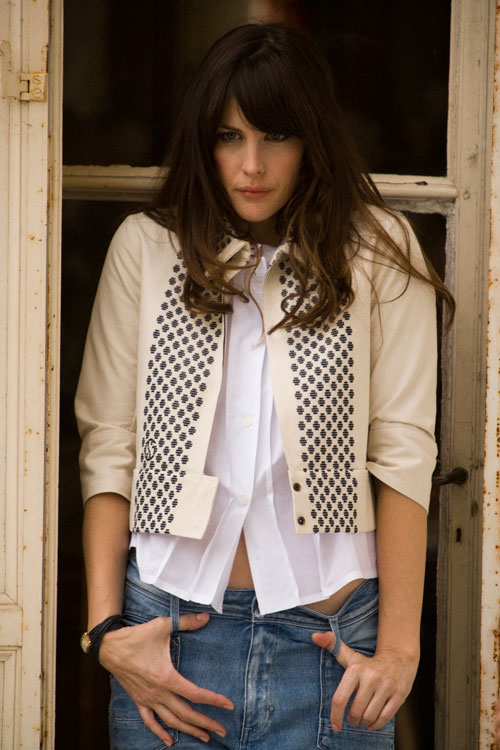 G-Star: Do you collect photography?
LT: I do, I'm starting. I'm so lucky with my parents that there are so many incredible pictures taken of my mom, my stepfather Todd Rundgren and my father Steven. And so there is a couple of photographers I'm close to my whole life, who took a lot of these pictures. I have a few of the photos I love of Yoko Ono and John Lennon, of David Bowie and Iggy Pop. I really love those. But I'm also not really picky. I collect things that I just love. They can be in antique stores or flee markets. I have a couple of valuable photographs I really love. I have a beautiful Eve Arnold photograph of Marilyn Monroe and a couple of other ones. I'm slowly collecting things.
G-Star: And when you are in New York, do you go to the galleries?
LT: Right now I have a four year old. So I go to the Natural History Museum and science museums, but of course I love art galleries. I do not always have the time to, but I do.
G-Star: What do you think of Paris? What is your favorite city?
LT: I love Paris. Paris is so beautiful and exotic to me. I always feel so lucky when I go to Paris. I have a cosmetic contract with Givency and I usually come to Paris to work with them. It is amazing the building they have their fashion house in. It is kind of like here, an incredible historical beautiful building. I'm always amazed by the places and things I get to see and do when I am in Paris, I enjoy that. That is a lot different from America. I think it's delicious, I like every part about it. My favorite city in the world? I do not know. I love New York, because it feels like home to me. I really like London a lot. I like Paris. I am not really such a big favorite person, because I like little tiny cities and big cities for a different reason. I really like authentic, real things in life. I have always wanted to go to Amsterdam, I have never been to Holland before. So that is a dream of mine.
G-Star: Do you see yourself carry on in more independent or Hollywood films, or does it depend on the project?
LT: Well, I do not have kind of a master plan. I think about work a lot and I'm very passionate about my work. But I'm equally as passionate about my life and so I guess I go through periods where work, especially acting can be so all consuming, that you really have to go into another world and completely into a character's headspace and especially with a child that is a tricky thing to do all the time. I do not have a preference for independent or not independent movies. Making a movie is making a movie. I'm always looking quite intensely for things that I feel passionate about and that I love. So far in my career I never done any movies that didn't feel a 100% certain about or that I had to do because I wanted to make money. I have never done that. Because of that, I sometimes go long stretches of time when I don't work because I don't find things I'm really passionate about. Right now I'm looking quite intensely for something that I really love.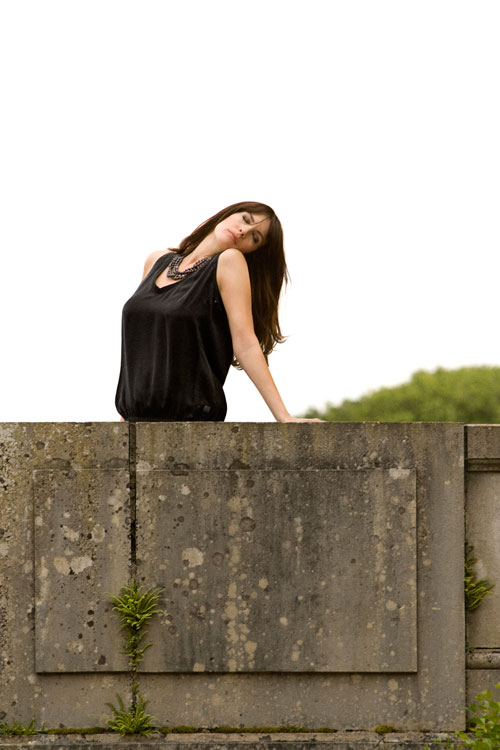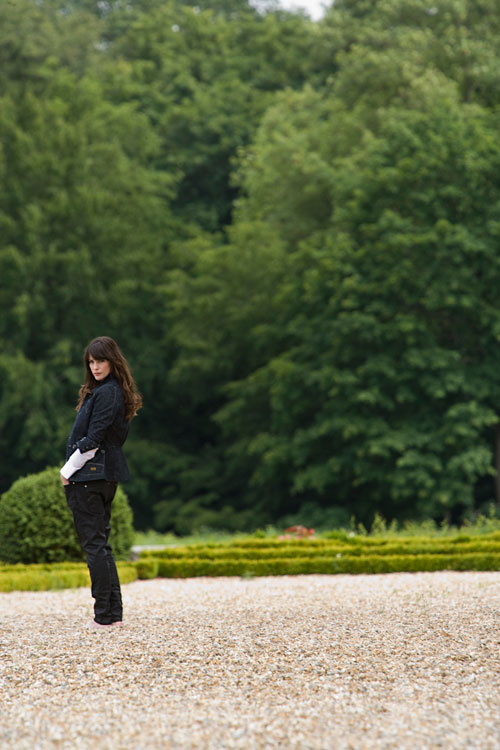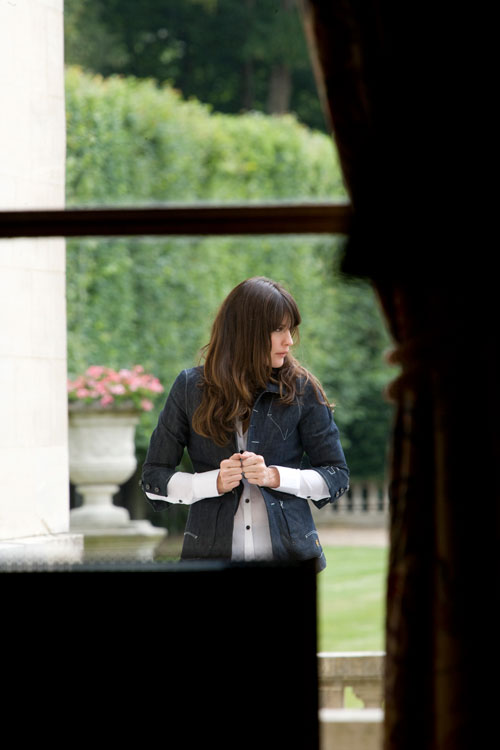 G-Star: Would you like to be involved in film in another role, like producing?
LT: I love that! I mean, you always are to an extent. I'm a very involved person; and I'm a very aware person. So I always wind up being very involved in hair and make up and wardrobe and all those sort of aspects. As an actor you are not just put on the set. You're always creating your character and their world and the things that they say. I definitely do tent to enjoy and gravitate towards those aspects of making a film. I really enjoy that a lot.
Photo Credit: G-Star RAW