John Varvatos ARTISAN will debut in March 2009 as the latest addition to the designer's fragrance collection from JV Fragrances & Skincare, a subsidiary of Shiseido America Corporation. ARTISAN completes the trilogy of the John Varvatos men's fragrance portfolio and continues to build on the impact of this highly original lifestyle brand.
John Varvatos was closely involved with every step of the development of his new fragrance, so ARTISAN bears his imprint: the finely wrought details, the signature mix of old world craftsmanship and modern technique. According to the designer, "Every aspect of my new fragrance, Artisan-from the carefully calibrated elements that comprise this unique scent to the handwoven flask that contains it-reflects the artisanal hand. The result is a truly timeless quality, one that evokes both my respect for the past and my vision of the future."

John Varvatos/Photo: Richard Phibbs.
The ARTISAN bottle was inspired by the clean lines and casual elegance of a traditional flask. Its profile echoes the contemporary silhouette of the Classic and Vintage fragrances but, as with all John Varvatos fragrances for men, different textures create a striking new design. Hand-woven rattan in a rich caramel color encases the flask, giving each bottle its own eclectic character. The metal cap with an antique blackened finish features a debossed logo. The result is an unmistakable sense of painstakingly crafted luxury that exudes its own unique charm.
Once again, John Varvatos partnered with Rodrigo Flores-Roux of Givaudan to create this signature scent. A masculine, contemporary and very personal take on the citrus theme, John Varvatos ARTISAN represents a merging of the classical citrus and herbal tonalities used in a traditional Eau de Cologne.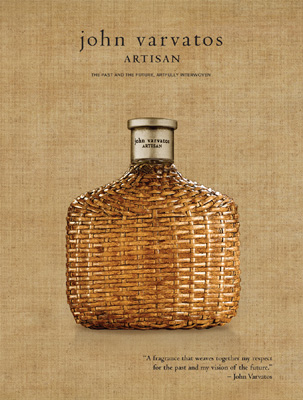 Top Notes: Sicilian clementines, juicy tangelo fruit, mandarin oranges, wild thyme, marjoram from Spain and Greek lavandin.
Heart Notes: North African orange tree blossoms, Indian murraya, essence of orange jasmine tree and ginger extracts.
Background: Kephalis and Georgywood, ambery belambre and musky serenolide.
Collection and Suggested Retail Prices:
•Eau de Toilette 125 ml (4.2 fl. oz.), $75 US
•Eau de Toilette 75 ml (2.5 fl. oz.), $55 US
•Deodorant Stick 75 g (2.6 oz.), $22 US MSRP
The 4.2 oz Eau de Toilette will preview exclusively with Nordstrom, the John Varvatos boutiques and at johnvarvatosfragrance.com in mid-February. Neiman Marcus and Saks Fifth Avenue will launch Artisan in mid-March and the entire range will launch nationwide in approximately 900 upscale department and specialty stores in April. Shortly thereafter, John Varvatos ARTISAN will expand to key international markets.