Kiehl's gives back with Limited Edition Creme de Corps Collection designed by KAWS to benefit RxArt.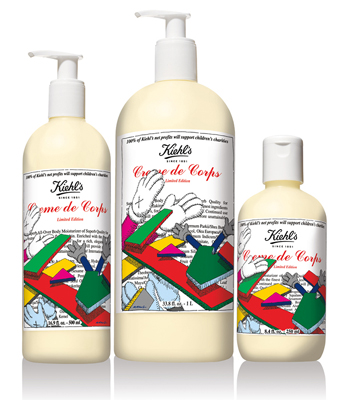 Maintaining its long-standing tradition of supporting children's charities, Kiehl's, the venerable New York-based purveyor of fine quality skin and hair care, is pleased to announce a collaboration with internationally renowned New York artist KAWS, to lend a helping hand to children in need. With the shared vision of creating safer, more sustainable environments for children, the Kiehl's and KAWS partnership will raise awareness though the sales of the Limited Edition Creme de Corps Holiday Collection, where 100% of net profits from the sale of each product will be donated to children's charities around the world.
In addition to designing a colorful, optimistic label, KAWS has designed the "Peace. Love. Kiehl's." holiday window campaign to be unveiled this holiday season in stores in the US and around the world in an effort to raise more awareness for the charitable mission.
Kiehl's iconic Creme de Corps, a cult classic since the 1970s, has traditionally been an ideal gift for Kiehl's customers – men and women alike – and will be available in three sizes with KAWS' limited edition artwork. The classic and original Creme de Corps body cream is enriched with elegant, skin-nurturing ingredients such as Jojoba Butter, Shea Butter, and Sweet Almond Oil. It is rich in skin-nurturing ingredients and ideal for hydrating extremely dry skin.
In the US, 100% of net profits will support RxArt, a non-profit national organization, committed to fostering artistic expression and awareness through the challenging, yet rewarding task of engaging young patients through contemporary art in pediatric hospitals.
Limited Edition Creme de Corps Holiday Collection: Considered the most hydrating, rich body moisturizer in the Kiehl's line, this super-enriched, nurturing body treatment is formulated with Beta-Carotene, Squalane and nurturing oils derived from Sesame Seeds, Soybeans, Almonds and Avocados; ideal for extremely dry skin; leaves skin soft, smooth and elegantly hydrated; the original, classic formulation and customer favorite for decades. 8.4 oz. $26.50; 16.9 oz. with Pump $44.50; 1 liter $70.00
Available at www.kiehls.com
About KAWS: Brian Donnelly, professionally known as KAWS, began his artistic career as a graffiti artist in the early 1990s, and since then has built an identity that had its genesis in guerilla imagery added to billboards and bus shelters. Through his company OriginalFake, he has released limited edition works. In addition to Kiehl's, he has collaborated on design projects with Commes Des Garcons, Marc Jacobs, and A Bathing Ape. Recently he has worked with Kanye West to create the cover art for 808s & Heartbreak which appeared on a Times Square billboard. In 2009, his art was selected for the cover of the annual "Best of New York" issue of New York Magazine. Born 1974 in New Jersey, KAWS graduated with a BFA from the School of Visual Arts in New York. He is currently working on his first solo museum show at The Aldrich Contemporary Art Museum, opening June 2010. A book titled KAWS, a survey of his work, will be published by Rizzoli in June 2010. KAWS has been an avid Kiehl's user since moving to New York City in 1996. His preferred product is White Eagle Shave Cream.
About RxART: RxArt, a non-profit organization, is committed to fostering artistic expression and awareness through the challenging yet rewarding task of engaging young patients through contemporary art in pediatric hospitals. By curating installations in hospital settings, RxArt provides a humanistic and creative surrounding that helps to relieve stress and anxiety, while increasing appreciation for contemporary art. Kiehl's Since 1851 has been supporting RxART since 2002. For more information on RxART visit www.rxart.net.
About the Author
I am one of the top fashion and beauty bloggers in the world also a Luxury Paradise Valley and Scottsdale REALTOR with Russ Lyon Sotheby's International Realty.