This weekend I've decided to let my hairdresser blow dry my hair because lately my hair is just not behaving! Do you all know the feeling? My hair just didn't get straight and silky even after spending a whole precious hour in my very busy mom's life. LOL. My hair finally looks fabulous and I can easily get used to this lifestyle. Till then I need to learn how to perfect my blow drying techniques and maybe try new hair products that work well with my hair. While at Sachi salon in Scottsdale I got obsessed with the L'Oréal Professionnel NEW Série Expert Liss Ultime collection. I want it! Once I try it I will share my thoughts. Meanwhile here is a little bit about the line.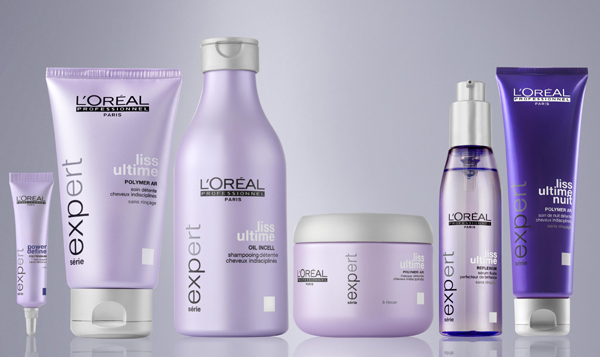 L'Oréal Professionnel NEW Série Expert Liss Ultime: We all know how stressful dry, frizzy, unmanageable and rebellious hair can be. Beyond the obvious styling issues, factors such as genetics, the environment and climate, as well as day-to-day weather changes, are all to blame. L'Oréal Professionnel Série Expert has built upon the success and technology of Liss Extreme and re-launched the line as Série Expert Liss Ultime, a collection made especially to treat coarse hair and result in softer, more manageable tresses.
Frizzy hair is caused when the cuticle layer on the hair shaft becomes rough and stands straight up. Once humidity is factored in, the hair shaft absorbs the extra moisture in the air and expands, causing the cuticle layers to stand out even more. This exposed cuticle layer leaves the hair susceptible to further damage, whether from chemical and environmental aggressors, or even from simple brushing or styling. The end result is hair that feels coarse, lacks shine, and looks lifeless.
The Liss Ultime line infuses the latest technologies from L'Oréal Professionnel into their products. Oil Incell is a combination of nutritive oils (argan + olive) and Incell technology that provides internal nutrition to the hair fiber while smoothing the cuticle layer. Polymer AR is a double-action technology of nutritive oils (argan + olive) and a shielding polymer that maintains the nutrition of the hair fiber and provides humidity protection. Polytensium are ultra charged smoothing polymers that leave hair with lasting, defined smoothness and intense shine. Together, these technologies are designed to bring smoothness, nourishment and humidity protection to unruly and troubled hair.
The Liss Ultime at-home maintenance range includes the following products:
Liss Ultime Smoothing Shampoo: A luxurious, enriched shampoo that nourishes unmanageable and rebellious hair while providing lasting smoothness and frizz control. Oil Incell provides internal nutrition to the hair fiber while smoothing the cuticle. 8.45 fl. oz. – $21.00, 16.9 fl. oz. – $28.00
Liss Ultime Smoothing Masque: A richly textured masque that provides deep conditioning for unmanageable and rebellious hair. Polymer AR double-action technology (nutritive oils and a shielding polymer) maintains the nutrition of the hair fiber and provides protection from humidity. 6.7 fl. oz. – $30.00
Liss Ultime Smoothing Treatment (Leave-In): A leave-in treatment that provides conditioning care and discipline to hair, while protecting it from humidity and moisture. The combination of Polymer AR and Incell technology strengthen and nourish the hair fiber. 5.0 fl. oz. – $23.00
Liss Ultime Shine Perfecting Serum (Leave-In): A fluid serum that provides control, shine and suppleness for unmanageable hair in a single step. Using Reflexium, an ultra-light shine and control agent, Shine Perfecting Serum helps facilitate blow-drying, controlling rebellious strands to leave hair glossy and smooth. This great formula is the same as Liss Extrême Shine Perfecting Serum. 4.2 fl. oz. – $23.00
Liss Ultime Nuit (Leave-In Smoothing Night Treatment ): After a night's rest, hair frequently appears unruly in the morning – especially unmanageable and frizzy hair. Liss Ultime Nuit is the perfect addition to one's nighttime regimen. The smoothing night cream acts as a luxurious leave-in treatment to be applied at night, nourishing and taming hair while you sleep, when the body is in its natural reparative state. The night treatment is a non-greasy gel cream that nourishes and conditions the hair fiber overnight for improved manageability in the morning. Using Polymer AR and Incell™ technology, Liss Ultime Nuit penetrates deep into the cuticle to condition and enhance texture. Hair may be washed and styled as usual in the morning, or, for more intense benefits, just brush and style without rinsing. 4.2 fl. oz. – $35.00
EXCLUSIVE IN-SALON TREATMENT:
Power Define: High Definition Smoothing Treatment: For the launch of Liss Ultime, Série Expert created a new exclusive in-salon treatment that reinforces its expertise in backbar services. To manage unruly hair, Power Define treatment is applied to sectioned hair, fiber by fiber. Using Polytensium, an ultra-charged smoothing polymer, Power Define targets the cuticle and surface to provide instant, visible results that leave hair shiny and supple. Similar to other Série Expert Powerdoses, the benefits of Power Define can last up to 6 shampoos. (Suggested Salon Charge $15 – $20)
For more information please visit www.lorealprofessionnel.com  for a salon near you.