NEW Beauty Products On The Block. New beauty products excite me. In fact that's what makes me a beauty junkie you see. The thrill of trying new products and maybe even finding The One. The latest has just landed the Marta Walsh's desk. Here's a sneak peek. Mostly by L'Oreal Paris introducing EverSleek Sulfate-Free smoothing system Preparative Shampoo, conditioner, and EverSleek Frizz Creme Serum. Smells green melon and white rose and fantastic and works as good as salon brands. Also in the collection, L'Oreal EverSleek Intense Smoothing version.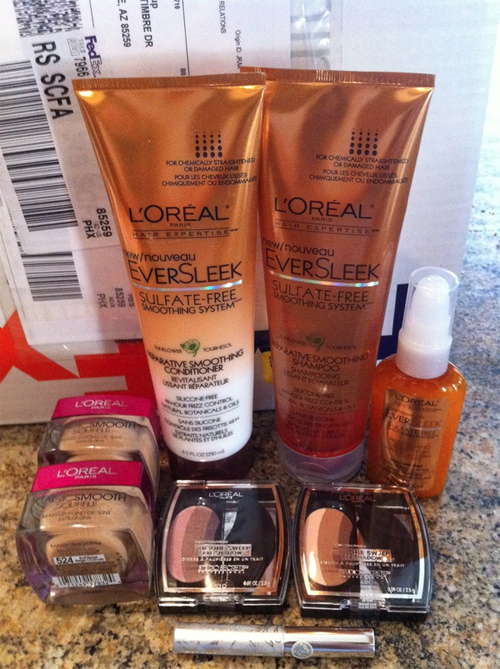 Just landed on Marta Walsh's desk the latest beauty products x
Another favorite is L'Oreal New Magic Smooth Souffle Makeup Foundation, so light so easy to apply, great wearable shades, it's a keeper. It's an air-whipped, oil-free foundation. This is part f L'Oreal Studio Secrets collection inspired by backstage beauty and their very talented makeup artist James Kaliardos.
I even love the new L'Oral The One Sweep Eye Shadow. Shade are very practical. Matte finish. The magic here is "shadow trio that can be applied in one easy sweep" via L'Oreal. And lastly, the solution for getting these small lower lashes mascara love: NEW Clinique Bottom Lash Mascara and I'm proudly wearing it right now. This one launching February 2011. Available in black or brown. Their micro-mini brush is one of the smallest on the market. Did you know that 82% of women wear mascara on regular basis? And 80% of women surveyed said their brush was either too fat, too long or curved the wrong way to apply to bottom lashes? the NEW Bottom Lash Mascara by Clinique is designed to last 24-hours with a special long-wearing formula.