Redken Creative Consultant Guido created a sculpted, wavy look to match the austere yet glamorous Miu Miu collection in Paris today. "At Miu Miu today, we're replicating this new type of texture that we've seen a lot of this season. Miu Miu is Prada's "little sister" so we used a similar texture seen in Milan at Prada as a reference for today. The hair is down with a few waves in the front and in the back – it's finished with Redken's forceful 23 so you know there's something in it. "–Guido, Redken Creative Consultant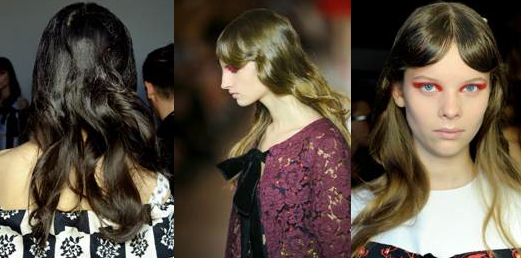 Miu Miu Spring/Summer 2012 Paris Fashion Week
Redken Products Used:
-Velvet gelatine 07 cushioning blow-dry gel
– forceful 23 super strength finishing spray
How to create the hairstyle:
– Apply velvet gelatine 07 cushioning blow-dry gel to damp hair and rough dry.
– While the hair is still warm from the blow-dryer, pull the hair into a knot at the occipital bone and let set for 15 minutes or until hair is cool
– Pull hair out so there is a slight wave in the back.
– For the front, create a center part and pull the left and right front sections (separately) slightly over the forehead to create a wave effect and tuck behind the ears (see picture below).
– Finish the entire head with forceful 23 hairspray so the hair is completely stiff to create a very hard looking texture.