Nexxus Salon Hair Care is returning as the official hair care sponsor of Shear Genius, Bravo's hit reality hair competition.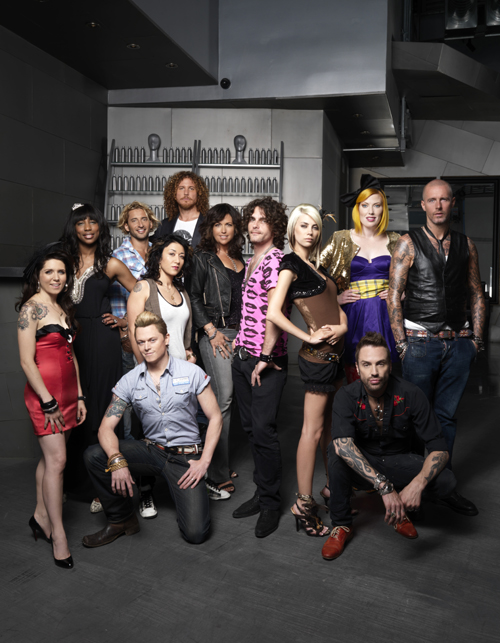 The cast of Shear Genius Season 3. Photo credit: BRAVO
Bravo's creative hair-styling competition series "Shear Genius" premieres Wednesday, February 3 at 11 p.m. ET/PT with a whole new look. Nexxus Salon Hair Care, official hair care sponsor of the show, has partnered with Bravo for a third season of high-stakes action. For the first time, "Shear Genius" has gone international. After combing the world for top stylists, Bravo has assembled 12 remarkably-talented individuals who will raise the level of competition to hair-raising heights. Each week, the show will offer expert tips and how-tos, as well as fashionable hairdos created exclusively with Nexxus products.
"We are thrilled to be back for a third season," said Rob Keen, Nexxus Brand Director. "Partnering with a program that celebrates the professional community and provides viewers with an insight into the world of hair care is a natural fit for Nexxus, a company with 30 years of salon experience."
International model and handbag designer Camila Alves makes her hosting debut alongside new series judge Jonathan Antin, celebrity stylist and former star of Bravo's hit series "Blow Out." Famed stylist Kim Vo returns as a judge for his second season, and, new to the series, accomplished stylist Orlando Pita adds his voice of expertise as mentor to the contestants. Nexxus Creative Director and renowned stylist Kevin Mancuso will also join the panel on Wednesday, March 10th for the Nexxus Challenge episode
The world of styling is much bigger than just a salon – and Bravo's "Shear Genius" offers a glimpse into that captivating and little-known arena. This season the challenges are more glamorous, the hair more knotty, and the competition more fierce, as the contestants attempt to demonstrate that their style is a cut above the rest.
Every Wednesday, beginning February 3rd, contestants will lather, rinse and compete in the "Shear Genius" Nexxus Salon. Fans of the show can enjoy the competition online by signing up with Nexxus on Facebook (click here – http://www.facebook.com/nexxus ) to receive tips for recreating the winning looks at home, "blow" by "blow" commentary from Nexxus Creative Director and celebrity guest judge Kevin Mancuso, and much more!