It is something most women do on a daily basis – fight the aging process. Capitalizing on 50 years of scientific DNA, women can rest assured their age-defying needs are met with Redken's NEW age-defying regimen featuring NEW Cover Fusion professional haircolor, Time Reset at-home haircare range, and a Time Reset Salon Service to combat and prevent aging hair.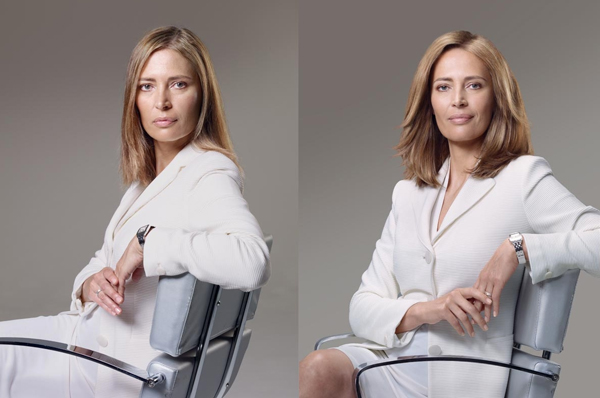 "Most of us are well-versed on the impact of age on the skin, and less attention is spent on the effects of aging on the hair," states David Cannell, Redken Research and Development Expert.
"Redken research has identified two main categories of aging hair: chronological aging caused by mechanical, environmental and chemical distress – the combined effects of these external factors can leave hair dry, sensitized and/or porous. The second category is hormonal aging which occurs as a result of the physiological changes that women experience as they grow older. This ultimately results in slowed scalp activity and the decline in melanin, the hair's natural source of protection and defense against age-accelerating aggressors."
The combined impact of chronological & hormonal aging can leave hair with six visible effects that lead hair to become porous, lifeless, and extremely difficult to manage:
1. Change in Texture
2. Diminished Density
3. Increased Dryness
4. Surface Dullness
5. Fragility / Breakage
6. Gray Hair
"Everyone's hair ages differently, some of us earlier than others," explains Cannell. "Below is a general timeline that captures the changes women commonly observe:
– 20s: Hair is at the peak of thickness and strength; Scalp produces ample sebum giving hair healthy shine
– 30s: Damage incurred during your 20's becomes visible; Slight decline in sebum production can cause hair to lose its natural luster
– 40s: Diameter of hair shaft begins to shrink, resulting in thinner and more fragile strands; Decline in melanin levels can lead to emerging gray hairs
– 50s: Most women are 50% gray by the age of 50, caused by a steep decline in melanin; Follicles continue to shrink leaving hair finer and thinner around hairline and top of scalp
– 60s: Nearly 40% of women will experience some degree of hair loss by age 60, mostly around the crown, leaving hair thin-looking and lackluster."
Redken's solution to aging hair is the NEW age-defying regimen that addresses both the immediate needs of aging hair while helping to prevent hair from aging starting in the salon with professional haircolor and backbar service, and continuing the care at-home with age-fighting retail offerings.
Cover Fusion Low Ammonia 100% Coverage Color Cream
Redken's NEW Cover Fusion Low Ammonia 100% Coverage Color Cream offers 100% gray coverage with natural, modern reflects to clients with over 50% gray hair. Formulated with low ammonia and low odor, Cover Fusion provides a pleasant and comfortable experience for clients. Additionally, Cover Fusion contains ingredients specifically formulated to address the issues gray-haired clients face. With argan oil it helps protects against weakened defenses resulting from melanin loss and with cationic conditioning polymers and rice protein, it provides superior conditioning to dry/dull hair. Available in 24 naturally reflective shades, Cover Fusion addresses 4 of the 6 signs of aging.
Cover Fusion's Revitalage Colorbond Technology provides 100% gray coverage:
· Naturally Reflective Coverage: A combination of high coverage dyes provides intense reflect and perfect coverage for hair that is over 50% gray
· Optimal Defense: With argan oil, which contains antioxidants known to neutralize free radicals
· Superior Conditioning: Cationic conditioning polymers and rice protein help revitalize the hair
Additionally, Cover Fusion's creamy texture provides easy application with either a bottle or bowl and brush, and 35-minute processing provides faster processing time for more efficient services for colorists and their clients.
Time Reset Salon Service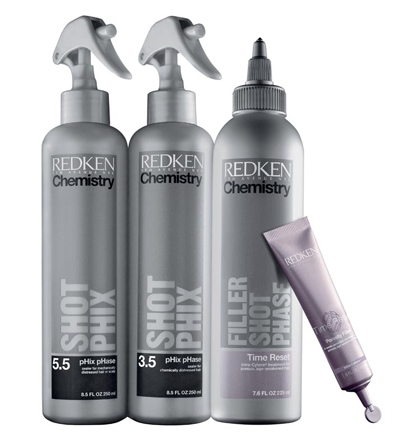 Redken's NEW Time Reset helps repair years of damage while combating and preventing five visible signs of aging hair with a targeted home regimen and salon service. Time Reset uses a combination of age-fighting formulas fortified with the powerful Vital 5 Complex and patented Intra-Cylane technology to help combat 5 of the 6 signs of aging hair:
Intra-Cylane: Evens porosity and improves strands resilience
Peptides & Ceramide: Repair and resurface the cuticle
Green Tea: Neutralizes free radicals with antioxidant support
Camellia Oil: Softens, replenishes, and restores shine
Cationic UV Filter: Helps prevent premature aging
The restorative process begins in the salon with a Time Reset Salon Service featuring a professional backbar treatment formulated with 10% Intra-Cylanethat helps even porosity, reinforce internal structure and restore substance to fragile strands.
Time Reset At-Home Maintenance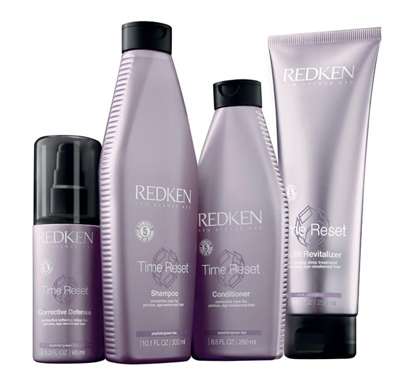 The care is continued at home with advanced, age-fighting formulas that renew texture, enhance density, replenish moisture and shine, and help defend hair against free radicals for hair that looks and feels younger and more resilient from root to tip. Time Reset at-home regimen includes Shampoo, Conditioner, Youth Revitalizer replenishing deep treatment and Corrective Defense protective softening lotion.
To locate a Redken salon please log on to Redken.com.
Please note, Redken products can only be guaranteed authentic when purchased from a salon.