Getting ready to go to the beach, don't forget to put ChapStick True Shimmer Botanical Berry in your beach tote!
ChapStick True Shimmer Botanical Berry has the most succulent and delicious scent that will keep you relaxed and hydrated while you enjoy the sea breeze. And, you don't have to give up on a bit of color while at the beach, because ChapStick True Shimmer Botanical Berry has a subtle pink shimmer to it. This ChapStick is addictive. I love how classic beauty products become so modern and chic!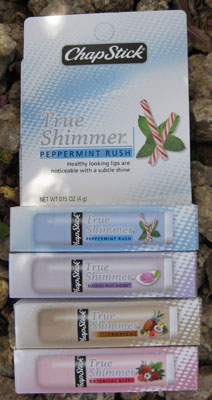 Also check out:
ChapStick True ShimmercTropical
ChapStick True Shimmer Blended With Fruit Sherbet (ooh..this one sounds very succulent)
ChapStick True Shimmer Peppermint Rush
ChapStick True Shimmer offers the moisturizing benefits of ChapStick for the essential protection your lips need to look and feel their best, with the added bonus of an oh-so-subtle shimmer. Wear it under your favorite lipstick for a shine and moisture boost or solo for a natural, attractive look that's easy to pull off anywhere, anytime.
Available in Tropical, Botanical Berry and new Peppermint Rush and Blended Fruit Sherbet (both available July 2009) flavors, ChapStick True Shimmer is the perfect summer must-have. And at just $2.79, you'll be able to keep one in your beach tote, desk drawer, makeup bag or purse for any occasion where you need it-all without breaking the bank.