Dolce&Gabbana The Make Up Glow Bronzing Powder ($47): Glow Bronzing Powder is a remarkable delicate formulation, ideal for creating the warm and sensual Hollywood glow. Looks exuding warmth and sensuality are an omni-present force in the world of Dolce&Gabbana, and here impart a feeling of indulgent decadence to the skin. Glow Bronzing Powder can be worn by day to illuminate the skin tone, adding depth to it; or by night to exude radiance.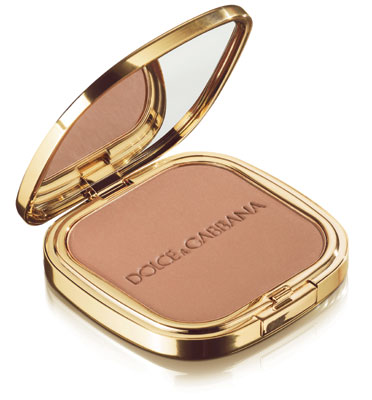 Domenico Dolce and Stefano Gabbana on the bronzer: "Sun kissed beauty is the ultimate in refined and modern luxury. With the Glow Bronzing Powder, we are bringing the dream of glowing beauty to life by enhancing the allure of perfect health"
How to apply a bronzer: Leading make-up artist Pat McGrath's tips for perfect application: A lighter shade of bronzer will create the most natural looking tan. It is also the most forgiving if application is anything less than expert. Build colour gradually, starting at the temples, chin, and cheeks and blending toward the centre of the face with a large powder brush. 'Natural' is the perfect shade for re-creating the subtle warmth seen at the Dolce&Gabbana shows.
The formula: Smooth powder delivers sun kissed warmth and a natural glow. The four shades are each layered with golden pearl for a subtle shimmer, adding a glistening radiance to the complexion.
The packaging: Glow Bronzing Powder sits in gold metal casing, with a generous mirror for optimum application. The compact is elegantly packaged in a black velvet pouch and includes a pocket for the applicator brush for optimum portability.
The shades:
The bronzer is available in 4 different shades:
Natural: Yellow gold pearl
Desert: Warm sand with rose gold shimmer
Sunshine: Sunkissed shimmer
Bronze: Rich red copper infused with golden shimmer