Victoria's Secret Beauty has another winner. Love Rocks, the newest fragrance in Victoria's Secret's Sexy Little Things collection, picked up a prestigious FiFi Award-– considered the fragrance industry's top honor, on Thursday night, June 10th, 2010, at the Downtown Armory in New York City. Love Rocks won in the Women's Private Label Direct Sell category, proving that this pretty-punk favorite really does rock.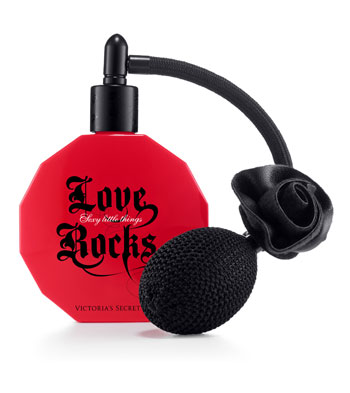 Guests at the 38th Annual Fragrance Foundation awards ceremony included Kim Kardashian, Usher, Randy Jackson, Lelee Sobieski, Tinsley Mortimer, Sophia Vergara, Michael Kors, and Allure's Linda Wells, among others.
Last year, the collection's NOIR Eau de Parfum won a FiFi Fragrance of the Year award in the same category. "It's an honor to win again," says Shashi Batra, President of Victoria's Secret Beauty. "Love Rocks is a huge hit with our customers, and with every vote for this award they showed how much they truly love this fragrance."
Launched in January 2010, Love Rocks is equal parts hopeless romantic and untamed rebel, the fragrance is a blend of vivid plum, hypnotic violet and sensual vanilla. Actress and real-life rocker Taylor Momsen, who helped launch the fragrance, embodies its tough-luxe attitude. With its red and black edgy packaging, Love Rocks is the first fragrance to inspire an outfit worn in the Victoria's Secret Fashion Show.
"It's a fruity, floral scent that's powerful and daring, yet intoxicatingly feminine," says Mark Knitowski, Vice President of Product Innovation and Victoria's Secret in-house fragrance expert. "Love Rocks perfectly captures that sexy tension and drama."
Victoria's Secret Sexy Little Things Love Rocks is available at Victoria's Secret Stores nationwide and online at victoriassecret.com.