Paris Fashion Week SS 2011. At Yves Saint Laurent, the look was once again, wet with high-shine, but this time it was an inverted roll around the head, inspired by a strong woman.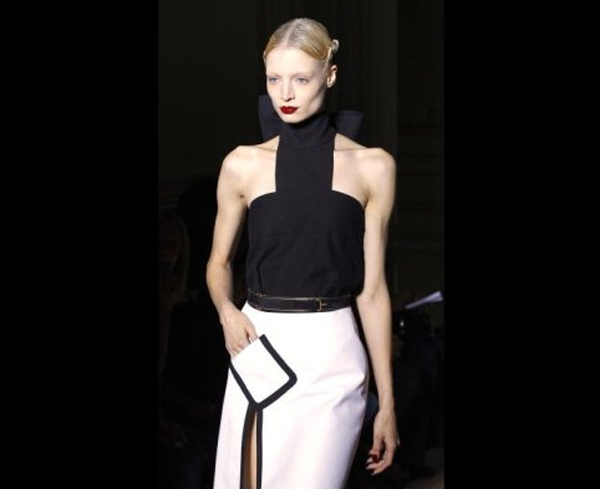 image via www.huffingtonpost.com
"For this show, the designer wanted a very structured look, so we went with a style that is very close to the head and high-shine and wet looking. This represents a very strong woman and the shine adds a bit of drama." –Guido, Redken Creative Consultant
Redken Products & how to:
-hardwear 16 super strong gel
-forceful 23 super strength finishing spray
Create the Look:
-Damp hair with a water spray bottle all the way through.
-Create a center part hair from roots to crown.
-Layer in the hardwear 16 super strong gel for a high-shine look that is slick to the head
-Beginning on one side above the ear, begin twisting the hair inward (horizontally across the head), adding more hair as you twist around the head. Stop at the center.
-Do the same on the other side
-Once both sides are twisted inward, take the longer back portion and twist upward towards the head to meet the other two twists. Secure with pins and finish with forceful 23 super strength finishing spray for hold.