All Posts Tagged With: "Estee Lauder Sensuous"
Mother's Day is around the corner, why not get your mom a special and a classic gift from Estee Lauder!
Mother's Day is right around the corner and Estée Lauder is here to help you find the perfect gift. One of seven signature scents in the form of a lavish fragrance gift set or an opulent perfume compact is sure to make her smile.
It's Mom's turn to feel Sensuous. The Estée Lauder Sensuous Mother's Day fragrance gift set features the woodsy, intimate scent in three elegant luxuries including a 3.4oz Eau de Parfum Spray, 2.5oz Satin Body Lotion and 2.5oz Silken Shower Creme.
Tell her she's Beautiful inside and out. Show her you care this Mother's Day with the gift of a thousand flowers. The Beautiful Romantic Favorites fragrance gift set is wrapped in an exclusive, contemporary floral print box and includes a 2.5oz Eau de Parfum Spray, 2.5oz Perfumed Body Lotion and 2.5oz Bath and Shower Gelée.
Sweep her off her feet this Valentine's Day with the right essentials from Estee Lauder.
From a sultry fragrance to a flirty pink top, getting that perfect Valentine's Day gift is a must for creating the right mood. Nothing says true love more than glamorous, collectible compacts and limited edition gift sets that are luxurious and a beautiful addition to anyone's vanity.
Make Her Feel Sexy and Sensuous…The Estée Lauder Sensuous fragrance gift set includes a 3.4oz Eau de Parfum Spray, 2.5oz Satin Body Lotion and 1oz Body Powder shaker to spice up your Valentine's Day. This woodsy, intimate scent evokes confidence, individuality and sex appeal for a memorable night.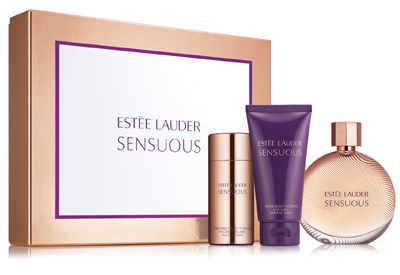 Here is a great article I found on Top 10 Fall Fragrances 2008 by Now Smell This.
Fall? Bah, humbug. I'm a summer person. The best thing I can say about fall is that at least it isn't winter yet. Here are some of the fragrances I like to wear while counting the days until spring…
CB I Hate Perfume Burning Leaves: I can't think of any other scent that so perfectly captures what fall ought to smell like. As I said when I reviewed it, it is "calming and invigorating at the same time", and it layers beautifully with all kinds of other things. To stick with the autumn theme, layer it with Gathering Apples (from the same brand).
L'Artisan Navegar: I think of Navegar as the fall version of L'Eau de L'Artisan – take out the seaweed, add some spices, voilà. It's too lightweight for qualify as a winter scent, but in the early, crisp days of fall when you can still get away with a light jacket, it's just right. Another spicy cologne to carry you into fall: Diptyque L'Eau de L'Eau.
Bvlgari Omnia: In the same seasonal category as Navegar – sheer but spicy, perfect for those early days when it's not yet cold enough for Donna Karan Black Cashmere. That is, assuming you're one of those lucky people that can smell Omnia at all. If you're not, you'll spray it on and wonder where it went.
Diptyque Tam Dao: Is the glut of information fueling your election anxiety disorder? Spray on some soothing Tam Dao. Oh, and stop looking at the polls. It will all be over soon.
Kenzo Amour: Tam Dao didn't work? Spray on some Kenzo Amour. Still freaking out? Did you try layering them? Well then, sorry, there's nothing we can do for you. Apparently you need to go camping.
Estee Lauder Sensuous: Yeah, yeah, I know. Many of you hate it. Angela found it dull, and she's got plenty of company. I can't make a case for Sensuous as an edgy scent, it's true, but I prefer to think of it as "easy to wear". I reach for it at night when I'm too tired for edgy.