All Posts Tagged With: "Ottavia et Emma"
Ottavia et Emma Event during New York Fashion Week Fall 2009: Sponsored by TheLuxurySpot.com, Elizabeth Grant, and 6 Degrees Magazine, the party drew over 1500 fans and guests who throughout the night enjoyed complimentary Chambord cocktails, OPI/Chambord colored nail polishes and gift bags stuffed with goodies that scream pure luxury.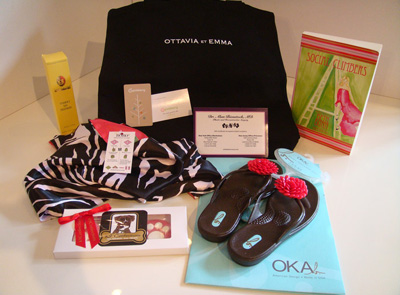 Photo credit: Rie Hirata.
Carried in, Ottavia et Emma 100% Organic Cotton Fashion Week IT Tote Bags, were swag products including BOBO luxury silk wrapping paper, sandals from Shoes That Love You, all-natural dog treats from K9 Confections, gift certificates for Pinkberry and top celebrity skincare guru, Dr. Alan Bienstock, and Ottavia et Emma's own 100% Organic Cotton logo tee.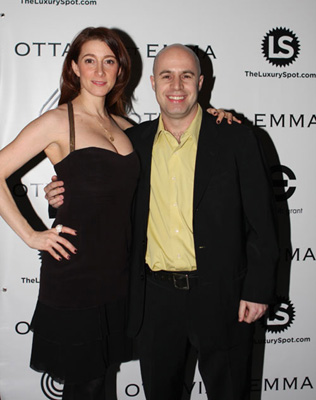 Aidyn Crowe and Dr. Alan Bienstock (photo by Sean Hogan).
The Ottavia et Emma launch party at the Mercedes-Benz New York Fashion Week Spring 2009 was the second largest fashion week party…right behind Marc Jacobs!
Ottavia et Emma fashion launch party at New York Fashion Week took place at Bryant Park Hotel Cellar Bar this past Friday, September 5th, and it was a great success!

Actress Joan Allen at Ottavia et Emma launch Party.
Here is what was in the VIP gift bag from the Ottavia et Emma Launch Party at the Bryant Park Hotel Cellar Bar on the 5th: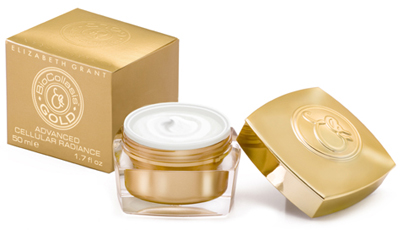 Elizabeth Grant BiocollasisTM GOLD Advanced Cellular Radiance – 50 mL.
Elizabeth Grant Gold Cream
Ottavia et Emma 100% Organic Cotton tote bag
Ottavia et Emma 100% Organic Cotton longsleeved black logo tees.
Promotions from Gotham Lasik & Gotham Skincare
Small personal bottles of the lovely Chambord — who sponsored the drinks all night!
O.P.I had specially made colors by Chambord, like ' South of the Chamborder'.