All Posts Tagged With: "Elizabeth Grant"
Elizabeth Grant Ultimate Cellular Concentrate ($75 for a 45ml bottle) celeb fans include: Brooke Shields, Jennifer Lopez and Leighton Meester!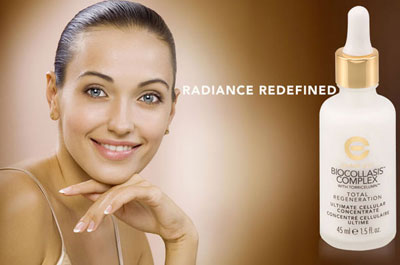 This clinically tested formula uses an intensive concentration of PLANT STEM CELLS to help delay the appearance of aging by protecting and repairing epidermal skin cells, as well as slowing the rate at which surface skin cells deteriorate. Apply sparingly to face, neck and chest area before retiring at night. For more intensive results apply to clean skin morning and night.
Visit www.elizabethgrant.com for more details.
Late night last night? No problem. The Socializer TM from Elizabeth Grant ($40) It's all the hydrating, cooling, soothing, de-puffing, dark-circle-erasing, illuminating action we could fit into one tiny tube. Celeb fans including Blake Lively, Jessica Szohr, Leighton Meester, Ginnifer Goodwin, Kristin Bell.

Here are some amazing new products from Elizabeth Grant for this summer!
Elizabeth Grant Soleil Smart Body Bronzer: Soleil Smart Body Bronzer with Torricelumn helps to moisturize, hydrate and produce a natural looking, even tan within 2 hours, without exposing the skin to the damaging effects of the sun's rays. Because Soleil Smart Body Bronzer contains no artificial colour, it produces the most natural results by enhancing your own natural colour shade; the more you apply, the darker the tan.

Soleil Smart is about being smart about sun safety. It's the ideal solution to the problem of wanting to achieve a tanned look without tanning in the sun, $30.00
Ottavia et Emma Event during New York Fashion Week Fall 2009: Sponsored by TheLuxurySpot.com, Elizabeth Grant, and 6 Degrees Magazine, the party drew over 1500 fans and guests who throughout the night enjoyed complimentary Chambord cocktails, OPI/Chambord colored nail polishes and gift bags stuffed with goodies that scream pure luxury.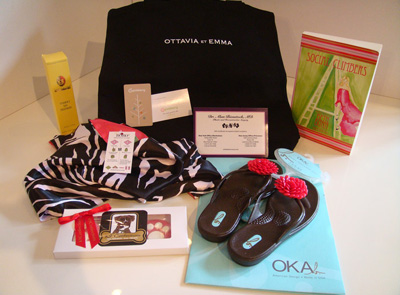 Photo credit: Rie Hirata.
Carried in, Ottavia et Emma 100% Organic Cotton Fashion Week IT Tote Bags, were swag products including BOBO luxury silk wrapping paper, sandals from Shoes That Love You, all-natural dog treats from K9 Confections, gift certificates for Pinkberry and top celebrity skincare guru, Dr. Alan Bienstock, and Ottavia et Emma's own 100% Organic Cotton logo tee.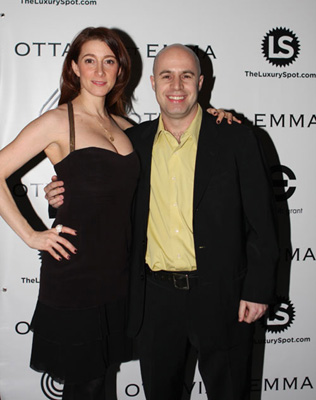 Aidyn Crowe and Dr. Alan Bienstock (photo by Sean Hogan).
The Ottavia et Emma launch party at the Mercedes-Benz New York Fashion Week Spring 2009 was the second largest fashion week party…right behind Marc Jacobs!
Ottavia et Emma fashion launch party at New York Fashion Week took place at Bryant Park Hotel Cellar Bar this past Friday, September 5th, and it was a great success!

Actress Joan Allen at Ottavia et Emma launch Party.
Here is what was in the VIP gift bag from the Ottavia et Emma Launch Party at the Bryant Park Hotel Cellar Bar on the 5th: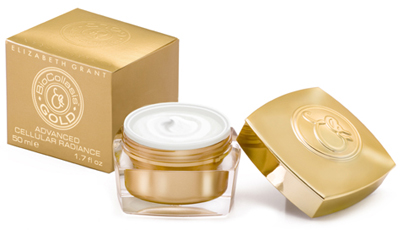 Elizabeth Grant BiocollasisTM GOLD Advanced Cellular Radiance – 50 mL.
Elizabeth Grant Gold Cream
Ottavia et Emma 100% Organic Cotton tote bag
Ottavia et Emma 100% Organic Cotton longsleeved black logo tees.
Promotions from Gotham Lasik & Gotham Skincare
Small personal bottles of the lovely Chambord — who sponsored the drinks all night!
O.P.I had specially made colors by Chambord, like ' South of the Chamborder'.
This week I tried some products from the Elizabeth Grant Skincare line, and I'm very impressed. Each product I've used on my skin left it superbly hydrated. And I put Elizabeth Grant Skincare on my top list of skincare brands.
These are the Elizabeth Grant products I tried and loved:
Elizabeth Grant Caviar Rejuvenating Eye Pads (6 pack): target the sensitive skin below the eye with superior formulation of Caviar Extract, sea proteins and Torricelumn. Rich in Caviar's Omega 3 Fatty Acids and Torricelumn, these eye pads improve the skin's firmness and elasticity in the delicate eye contours. Ingreduenst include: Torricelumn (Elizabeth Grant's superior moisturizing compound), Caviar Extract, Vitamin E, Algae-based Skin Tightener, Magnesium, Agiriline: "nature's Botox" – reduces appearance of lines and wrinkles, $39.00. My experience: I was left with super hydrated, soft and clam under eye skin.
Elizabeth Grant Biocollasis Advanced Cellular Radiance: is the Gold level of Elizabeth Grant's Prestige Line. Biocollasis Gold aids in the restoration and rejuvenation of the skin, giving it a "time-defying" luminosity. Imbued with the revitalizing energies of gold (we're not joking) and natural extracts, the skin recaptures the tone and vitality of a younger complexion and the resulting inner radiance, $149.00. My Experience: perfection cream. My skin felt revived and very hydrated.