All Posts Tagged With: "Summer Nails"
Summer Nail Trends: I can't get over how beautiful and wearable the NEW ZOYA flash & sparkle Summer 2010 nail polish collections. You just can't go wrong with even buying the entire collections. Every single shade is just gorgeous! Today I'm wearing: manicure ZOYA in JANCYN (the perfect coral/light almost beige orange, reminds me of a sunset summer sky) and pedicure ZOYA MAURA (the perfect coral red), both from the flash collection seen in first image below. These two nail collections from ZOYA definitely capture the heart and essence of summer. See for yourself and tell us which one is YOUR favorite!:)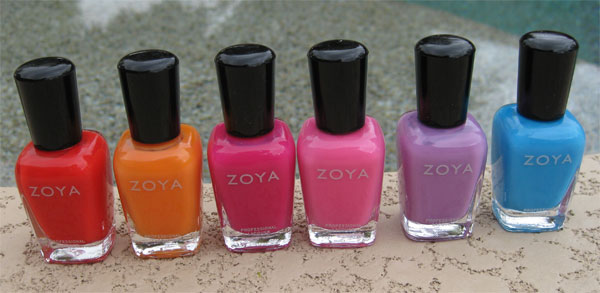 ZOYA flash Summer 2010 L to R: MAURA, JANCYN, DANA, JOLENE, PERRIE, ROBYN

ZOYA sparkle Summer 2010 L to R: NIDHI, ALEGRA, GILDA, MIMI, CHARLA, IVANKA
Watch Marta's video blog for today dishing out her must-have nail colors for the summer. Go light, bright, and classic!
Go Light with Essie Ballet Slippers, Bright with OPI Feelin HOT HOT HOT, and classic with Essie Really Red.

Marta Summer Nails video blog is featured on www.misslush.com Talking Makeup's
style & beauty video sharing website. Upload your video today!