All Posts Tagged With: "Winter 2011"
Backstage Makeup at Dolce&Gabbana Winter 2011 during Milan Fashion Week.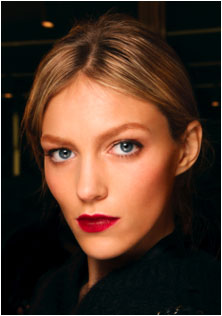 At the Dolce&Gabbana Winter 2011 Ready-to-Wear show in Milan, The Designers' showcased their Sicilian roots and fascination with "sartorialità" or tailoring, highlighting the jacket with keen focus on both perfection and sensuality. Dolce& Gabbana The Make Up added an aura of softness and seduction to each impeccable look, with washes of fresh, feminine color. On the runway, each model donned red lips and understated eyes created using Dolce&Gabbana The Make Up.
"This season, we took inspiration from our Sicilian heritage, and the art of traditional tailoring—sartorialità, " said Domenico Dolce. "The beauty look was all about modern feminine perfection, with impeccably pure, detailed touches, like the stained lip," added Stefano Gabbana.
Dolce&Gabbana Woman Fashion Show Winter 2011 Part 1: For this Winter 2011 Dolce & Gabbana women's collection, Domenico Dolce and Stefano Gabbana looked back to the inspirations of their beginnings and showed us what putting on a show really means.
Marta says: Quite revolutionary to show the behind the scenes of a fashion show. Dolce&Gabbana is ahead of their time!
For more Dolce&Gabbana videos visit their YouTube Channel.
Backstage Sneak Peek: Thanks to www.swide.com here is a little sneak peak to backstage at the Dolce&Gabbana Winter 2011 Woman Fashion Show!