What a difference a day makes! Ashley Greene, who is known for her pixie bob as Alice Cullen in the Twilight Saga stopped by LA-based salon Parlour on 3rd on Sunday, October 25th for a nine hour session to receive hair extensions, by stylist Essly Powell. Now that the 3rd installation is a wrap Greene jumped at the first chance to go back to her long locks.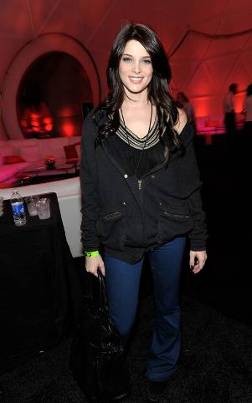 Ashley Greene with her extensions at the U2 concert  
Here are 10 tips from stylist Essly Powell on how to maintain your hair extensions:
The following are great tips to follow for hair extensions:
1) For protein bond or Keratip hair extensions, it's very important to NOT wash the new extensions for 2 days.
2) Hair must be brushed at least once a day.
3) Avoid over styling with heated tools, such as flat iron or curling iron.
4) If possible, find the perfect match as far as the hair color goes, this avoids double processing the extension hair, which will prolong the life of the hair.
5) Do not wash your hair everyday, over washing will strip the protective coating from the extension hair, therefore causing hair to be too porous.
6) Never leave hair sopping wet for extended period of time, doing so will cause the Bonds to swell and hair to slip out sooner. Always blow dry just the bonds, even if you are not doing a full blow dry.
7) Use conditioners that have more emollients in them to help re-moisturize the extension hair.
8) Braid hair before going to bed, it will prevent hair from tangling.
9) Swimming is ok, but keep it to non chlorinated pools and hair must be braided and wash and conditioned immediately after getting out of the pool.
10) Most importantly, visit your extension stylist 2 weeks into getting the hair so that he/she can check on how the client is taking care of the hair.