CHANEL Beauté and its Makeup Artist, Angela Levin, created Jennifer Aniston's look for the 2009 Academy Awards.
Beauty Inspiration: "When I spoke to Jen before the Oscars, we decided we wanted to create a look that exuded modern glamour. She had just returned from vacation, and she had that relaxed, glowing feeling, which we wanted to display on the red carpet. She is the quintessential California glamour girl, and she was radiant as always on Oscar night."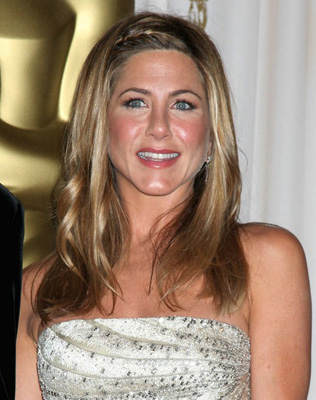 How to get Jennifer Aniston's Oscars 2009 red carpet makeup look: Angela prepped Jennifer's skin with CHANEL Hydramax + Active Moisture Boost Cream. She then used a foundation brush to apply CHANEL Lift Lumiere Firming and Smoothing Fluid Makeup in Beige all over the face.
Under Jennifer's eyes, Angela applied CHANEL Lift Lumiere Smooth and Rejuvinating Eye Contour in Beige Lumiere. Instead of a traditional blush, Angela dabbed a bit of CHANEL Hydrabase Lipstick in Coco Red on the apples of Jennifer's cheeks. She then applied CHANEL Sheer Brilliance in Sunkissed around the tops of her cheekbones, closer to the eye, for a bit of shimmer.
Jennifer's eyes were a combination of LORAC eye shadows in Jade, Black, and Serenity, and a Tina Earnshaw shadow in Aubergine. Her lashes looked extra glamorous thanks to CHANEL Inimitable Mascara in Noir-Black. On Jennifer's lips, Angela used CHANEL Aqualumiere Lipshine in Panarea, available in April. To complete the look, she dusted Soleil Tan de CHANEL Bronzer on Jennifer's skin, an exclusive creation product from CHANEL also launching in April.