NARS introduces its Fall 2010 Collection, an assortment of bright, matte colors and cool shimmering shades. The collection features François Nars' inimitable muse Daphne Guinness in the campaign.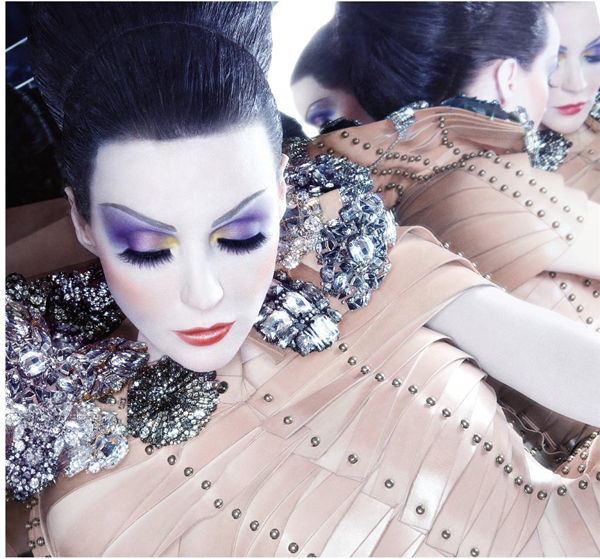 Throughout his illustrious career, NARS Founder and Creative Director François Nars has been inspired by iconic beauties whom, he says, "are larger than life, unforgettable and posses an elegance that's timeless."Perhaps no one fits that description better than Daphne Guinness, Nars' mesmerizing muse and inspiration for the NARS Fall 2010 campaign. Sexy, sultry, daring and decadent, Daphne "is the ideal icon to capture Fall 2010's old-Hollywood meets futuristic look," says François.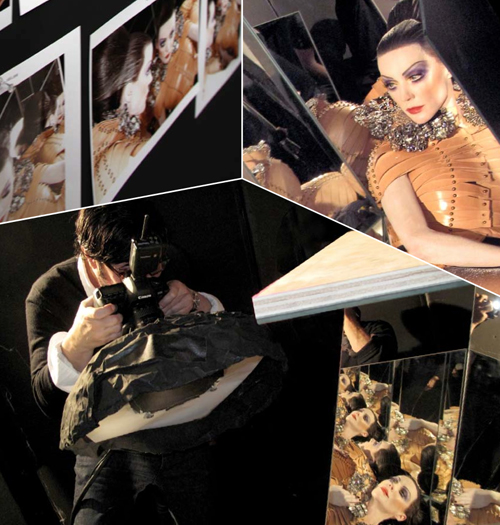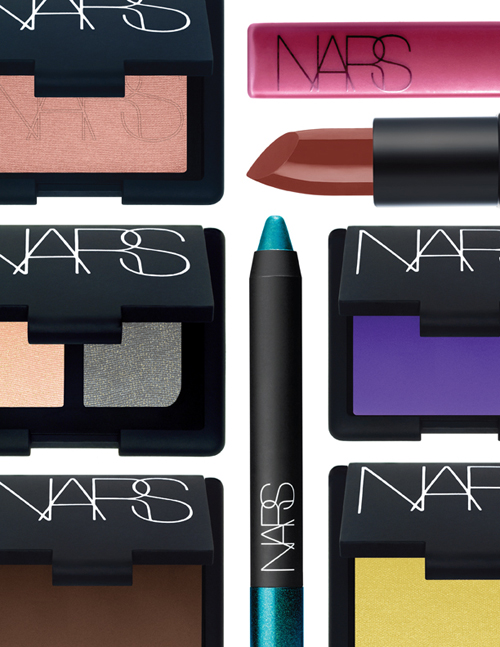 Below are the highlights, including Daphne Single Eyeshadow, named for Daphne Guinness: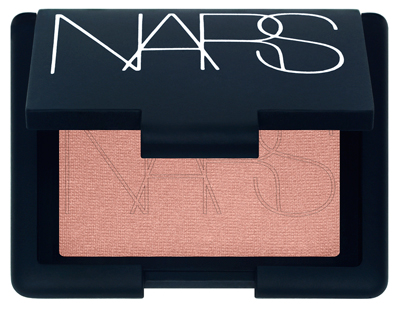 Douceur Blush: For the first time ever, this soft pink-brown hue is etched with the NARS logo. Douceur. Fr.: Sweet, gentle, delicate. NARS Douceur Blush: A soft pink-brown hue that lightly imparts a honeyed brown kiss of innocence on cheeks. Use to contour from the apple of the cheek upward; warm forehead, jaw line and nose.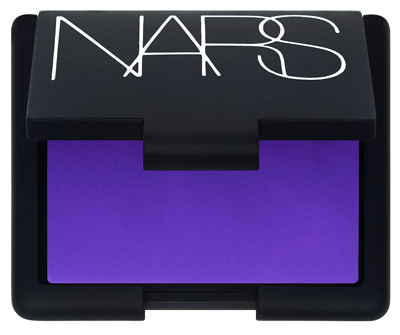 Daphne Eyeshadow: Named after Daphne Guinness herself, this eyeshadow is a hypnotizing matte,deep-violet hue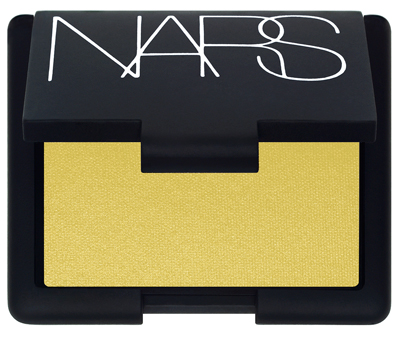 Mangrove Eyeshadow: A soft mellow yellow laced with lime, inspired by the tropical Mangrove tree

Coconut Grove Eyeshadow: A dark chocolate-cum-taupe named for Miami's magical neighborhood on Biscayne Bay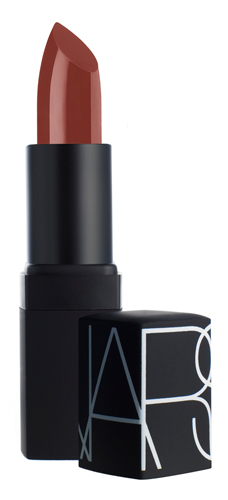 Rouge Basque Lipstick: Inspired by the inside cover of a book from the famed French countryside, François Nars envisioned the quintessential red from the Basque region

Strawberry Fields Lip Gloss: Imagine juicy, mouthwatering strawberries, just picked. Then delight in the serious, yet sexy shine of this bright pink confection

Palladium Soft Touch Shadow Pencil: This sparkling turquoise soft touch shadow pencil rocks with all the vibrancy and sex appeal of its namesake NYC hotspot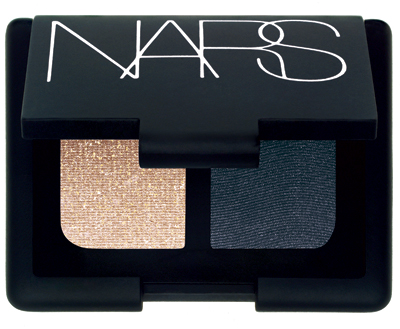 Rajasthan Duo Eyeshadow: An exotic pair of shadows playing glazed almond against cool charcoal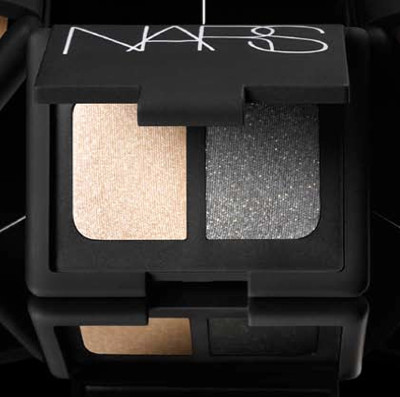 Tzarine Duo Eyeshadow: Platinum gold infused with silver is paired with a bold, steel grey in this duo
Daphne Guinnes NARS Makeup Look:
When it comes to describing fashionista Daphne Guinness, François Nars' passion knows no boundaries. And when it came to designing and photographing this futuristic makeup look for Fall 2010, François created a look worthy of his leading lady.
Central to this ultra-sophisticated, ethereal look: A canvas of impeccably, smooth skin. Under Nars' direction, Makeup Artist Kabuki primed the skin with line-erasing Skin Smoothing Face Prep, followed by a base of Siberia Sheer Matte Foundation and finally a light application of Snow Loose Powder. To contour Daphne's complexion, he dusted Douceur Blush to the cheeks and blended it with the Yachiyo Brush.
To create scintillatingly dramatic eyes, Kabuki applied a coat of Smudge-Proof Eyeshadow Base, followed by a wash of Daphne Single Eyeshadow. Using the Wide Contour Brush, he built color and intensity along the outer eye. For brightness in the inner eye, he applied Mangrove Single Eyeshadow and lightly lined the top and bottom lashes with Nuits Blanches Eyeliner Stylo. Brows were defined with Ipanema Eyebrow Pencil. The look was finished off with two coats of Larger Than Life Volumizing Mascara to both the top and bottom lashes.
The pièce de résistance: Daphne's lips, stained with Rouge Basque Lipstick and highlighted with Scandal Lip Gloss for ultimate shine and fullness.
Q&A WITH FRANÇOIS NARS
Why did you cast Daphne Guinness in the Fall 2010 campaign?
I loved working with Daphne Guinness on the 15X15 Project and wanted to work with her again. She is very creative, elegant and so high society. So very decadent with a British background. She is THE NARS woman—we even named an eyeshadow after her this season!
Why did you name an eyeshadow after Daphne?
When I saw her wearing the bright purple hue at the campaign shoot, I immediately knew it should be named after her. The eyeshadow looked like it was made for her—so mesmerizing and regal, like Daphne herself. I'm always inspired by so many different things when it comes to naming products—art, people, fashion, travel, music and nature.
Why did you build a set of mirrors to photograph Daphne?
Daphne herself was the inspiration for the campaign. She is so amazing to look at that we thought, why not have more of her! So we used the mirrors to multiple her image 5, 10 times.
What did you want to achieve with this collection?
I wanted a collection that was Old Hollywood meets futuristic, which is also very much Daphne's style. I love the bold hues—the deep red in Rouge Basque, the intense brown in Coconut Grove, and of course the regal purple in Daphne.
How should women update their makeup look for the Fall?
I hope women aren't confined to trends and take the change of seasons as a chance to experiment! This season, there are so many great bold hues for women to try—vibrant reds, deep brown, fresh blues. Mix the shades and textures and don't forget to have fun!
FALL 2010 COLLECTION
Douceur Blush $26
Rouge Basque Lipstick (Limited Edition) $24
Strawberry Fields Lip Gloss (Limited Edition) $24
Daphne Eyeshadow $23
Coconut Grove Eyeshadow $23
Mangrove Eyeshadow (Limited Edition) $23
Tzarine Eyeshadow Duo $32
Rajasthan Eyeshadow Duo (Limited Edition) $32
Palladium Soft Touch Shadow Pencil (Limited Edition) $24
NARS Fall 2010 Collection is available from July 15, 2010 at narscosmetics.com