Reveal The Woman Within: Halle Berry and Coty Beauty unveil a new fragrance for Spring 2009.
In Spring 2009, Academy Award winning actress, beauty and fashion icon, Halle Berry introduced her first signature fragrance called Halle by Halle Berry.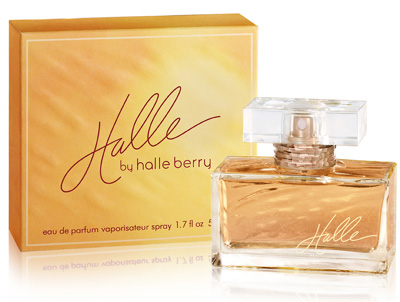 Inspired by Halle Berry's modern femininity and natural beauty, this new scent captures the spirit of a woman who is effortlessly sexy, stylish and elegant. Unique and powerful, much like the creator herself, this fragrance will resonate amongst all women around the world, inviting them to reveal their inner beauty, sensuality and strength of character.
"For years I have created my own personal scents by mixing and layering fragrances, trying to come up with something unique and different. It's a wonderful form of self-expression and I am thrilled to be working with Coty on my debut fragrance," said Ms. Berry.
"Partnering with Halle Berry was a natural fit for Coty", says Senior Vice President of Global Marketing, Steve Mormoris. "Halle is a dynamic and courageous woman who exudes a sense of innate sensuality and approachable femininity. We are very excited to be working with Halle and look forward to sharing this fragrance with consumers worldwide."
Fragrance:
Halle by Halle Berry is a modern and sensuous 'woody oriental' fragrance capturing Halle's natural beauty and multi-faceted personality.
Incorporating her favorite ingredients such as luminous Mimosa and Fig, this fragrance sublimes the beauty of women with its uniquely contrasted signature: transparent yet textured, fluid but tactile, the sparkling and sensual notes composing this scent playfully intermingle, creating an enticing sensorial fusion.
Radiant, sexy and unforgettable, Halle by Halle Berry reveals the bare essence of a woman that lies within.
Top:
Sicilian Bergamot, Fig Leaves and Pear Blossom
Heart:
Freesia Petals, Hibiscus Flower and Ultra Mimosa
Dry Down:
Sandalwood, Driftwood, Cashmere Musk, Olibanum Absolute and Sensual Amber
Packaging:
Like the fragrance, the packaging design echoes Halle's natural elegance and beauty, combining simple, effortless style with glamorous, ultra-feminine elements.
The clear, heavy-glass bottle features Halle's unique signature on the front and is adorned with a subtle embossed pattern that evokes the fluidity of waves and the beauty of nature. Contrasting the elegant simplicity of the bottle is the richer – rose gold juice color reflecting her sensuality and sexiness. The bottle's highlight is an ultra-feminine, vintage-inspired matte rose gold decorative ring on the neck, adding a subtle touch of glamour to the overall design.
Advertising: The advertising campaign, shot by legendary photographer and director Cliff Watts, celebrates the qualities that make Halle Berry so unique: her natural, sexy beauty, strength of character and sparkling spirit. Shot on a beach in Oahu, Hawaii, the campaign depicts Halle in a beautiful natural setting that resonates with her bare essence as a woman. Full of warmth and sensuality, Halle by Halle Berry symbolizes every woman's natural radiance and inner beauty.
Halle by Halle Berry Collection:
Eau de Parfum 0.5oz/15ml $ 17.00(US) / EUR 16.00 *
Eau de Parfum 1oz/30ml $ 28.00(US) / EUR 24.00 *
Eau de Parfum 1.7oz/50ml $ 35.00(US) / EUR 34.00 *
Body Lotion 6.7oz/200ml $ 12.50(US) / EUR 35.00 *
Shower Gel 6.7oz/200ml n/a / EUR 12.50 *
Deodorant Natural Spray 2.5oz/75ml n/a / EUR 13.50 *
* All prices noted are Suggested Retail Price