Last night Frederic Fekkai stylist, Angee Grmoyles tended to the tresses of Molly Sims for the 6th Annual Friends of El Faro event.
Inspiration: A fun and flirty yet still sophisticated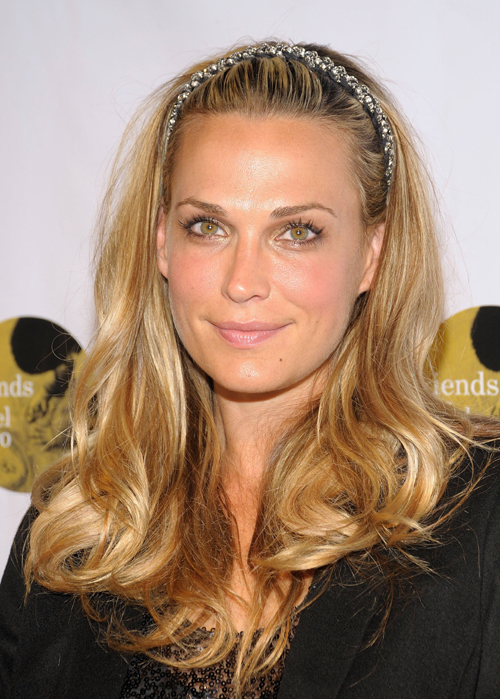 How to create Molly Sims hairdo:
First, Angee sprayed Coiff Bouffant Lifting & Texturizing Spray Gel to the wet hair to add body and fullness. She then blow-dried the hair with a diffuser to add volume. Next, she curled the hair with a 1 ½ iron and placed the curls in pins. After ten minutes she took down the pins. Then, Angee tossed the hair with her finger tips. She finished the look with the Fekkai Sheer Hold Hairspray to hold the style in place and loosely combed the head band back for easy maintenance, creating a fresh and styled look.
Products all by Fekkai: Coiff Bouffant Lifting & Texturizing Spray Gel ($23) Sheer Hold Hairspray ($23) available at Sephora, Nordstrom, Neiman Marcus, Saks Fifth Avenue and Fekkai.com.
About Friends of El Faro Event:
The 6th Annual Friends of El Faro Benefit raised funds for the children of tijuana casa hogar sion orphanage: Molly Sims, Jordana Brewster, Poppy Montgomery, Kim Porter,Sanaa Lathan, Dominik Garcia, Shannon Elizabeth, Rosa Blasi, Rebecca Budig, Amy Davidson, Rob Mayes, Bo Hopkins and special acoustic performances by Buddy, Holly Conlan and Jim Bianco.
An intimate cocktail reception where guests enjoyed live musical performances, dined on delectable hors d'oeuvres and sipped on specialty cocktails. All proceeds from the evening's auction items including: a signed guitar and CD by John Mayer plus two tickets to his concert at the Beacon in Manhattan with a meet and greet afterward, 2 Seven Night Resort Stay Certificates for Elite Islands Resorts, benefited Casa Hogar Sion orphanage.
Friends of El Faro, a dedicated group of actors, musicians, and friends aim to enhance the quality of life for Tijuana's children all by providing simple necessities such as food, shelter, and basic schooling. Beginning in 2002, Adam Smith and his wife Leigh Kilton-Smith have been making regular trips to Tijuana, Mexico to spend the weekend and aide in upgrading the lives of the more than 100 children of the "Casa Hogar Sion" Orphanage. Following the righteous path of Mama Carmen and Papa Jorge Gonzales, who have dedicated their love, lives, and retirement fund to the cause, The Smiths' objective is to further develop this dream.
In the past several years the orphanage has begun to flourish and now includes seven buildings, a computer lab, and full-time school for all the children. The Orphanage though is continuing to expand and remains committed to the children of Tijuana, Mexico.