Mark Townsend, Matrix's celebrity stylist, helped "Mad Men" star January Jones get glam for the 2009 Emmy Awards on Sunday, September 20, 2009. According to Townsend, "working with January for any event is always going to be fun and inspiring."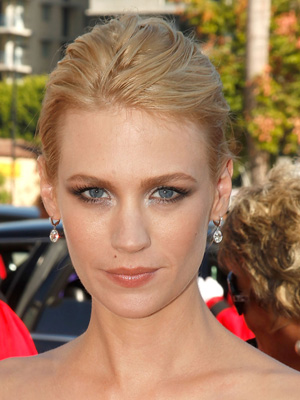 Mark was blown away with the detail and craftsmanship that went into making January's stunning Versace gown. "While getting January ready, we had the dress hanging close by so I could see it while doing January's hair, and that proved to be the inspiration for her overall look," says Townsend, who loved all the lines and cut-outs of the dress, and wanted the hair to have the same feeling.
To get January's hair from this glamorous event, Mark first sprayed Biolage Bodifying Spray Gel in her damp hair and blow dried it with a medium round brush. Then, he took sections of her hair pulled and pinned them back one at a time. January has shoulder length hair, so he needed to pull the hair back in sections because it is too short to pull it back all at the same time.
Mark wanted the style to look like a textured chignon and by pinning sections at the back, he was able to achieve exactly that. He finished the chignon with Vavoom Shape Maker Hairspray to give the style some hold, and purposely let some hair fall loose around the front to catch the light and to give it more of a "fashion" look.
Image via www.bellasugar.com