Celebrity Stylist Theodore Leaf Tends the Tresses of 90210 Star Jessica Lowndes with BIOLUSTRÉ before her 21st Birthday Bash, November 7, a the The Roosevelt Hotel, Hollywood CA.
The Look: A glamorous, "showgirl" up-do inspired by Moulin Rouge.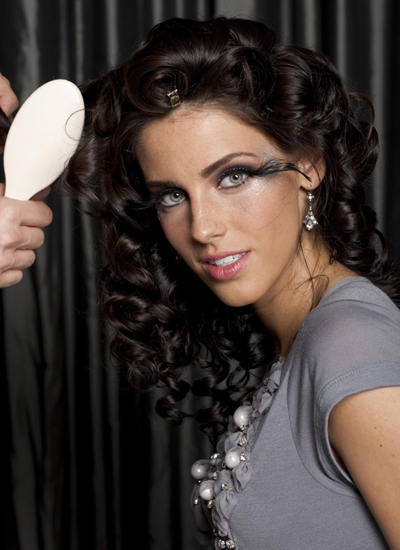 To restore healthy shine to her hair and prepare for styling, Jessica used Biolustré's intense 4-step repair system:
– Release Cleansing Shampoo: A gentle, low PH cleansing shampoo designed to remove excess oils and product build-up.
– Revive Repair Treatment: A unique formula clinically proven to repair hair to a near virgin condition, restoring softness, shine and strength.
– Restore Maintenance Treatment Shampoo: An innovative formula containing Biolustré's exclusive Lustreloc Technology, which delivers low levels of polymers to provide added strength and shine to hair.
– Renew Daily Conditioning Sealant: A lightweight conditioner formulated with ingredients including mint and tea tree oil for a soothing sensation. Renew is designed to help smooth the hair cuticle and seal in moisture.
One her hair was treated, Theodore Leaf created her style by blow drying the hair with a large round brush, applying a lifting spray at the roots to create some height for the updo. After blow drying, he loosely pinned back sections of curls to maximize body and volume. He then combed the top of the hair with a fine tooth comb to add height. After that, he gently teased at the roots and finished with putty to set the style. Front pieces were pinned back with a festive hair clip.
Available at www.biolustre.com , $49.95 for the set.