The latest Jo Malone launch: the Vanilla & Anise Home Candle, Bath Oil and Body Crème – hitting counters on March 1st, 2010.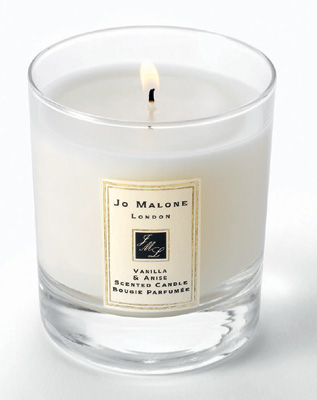 Last fall, Jo Malone presented Vanilla & Anise, the fragrance inspired by the floral landscape of Madagascar, capturing the fleeting moment that the rare vanilla orchid blossoms. The fragile cream and white flowers found on the vanilla vine are a precious discovery: only one or two appear in the morning and seemingly vanish by late afternoon. To enhance your fragrance ritual, in addition to Cologne, choose from the new Bath Oil, Body Crème and Home Candle. Your senses and your home will be infused with this comforting scent.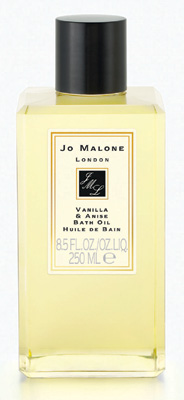 Vanilla & Anise blends notes of bergamot, neroli and star anise to create a touch of spice sparkling above transparent layers of delicate vanilla orchid and frangipani. The warmth of vetiver, white amber and the subtlest hint of clove complete this unexpected, modern story of vanilla.
Fragrance Combining Tip:
To fragrance combine, spray one Jo Malone Cologne, let it dry, and then spray a different Cologne on top to create your unique signature scent. Or, try a Body Crème in one scent layered over a Bath Oil in another.
Combine Vanilla & Anise with Black Vetyver Café to add a rich intensity and smoky depths to this exotic, sparkling scent.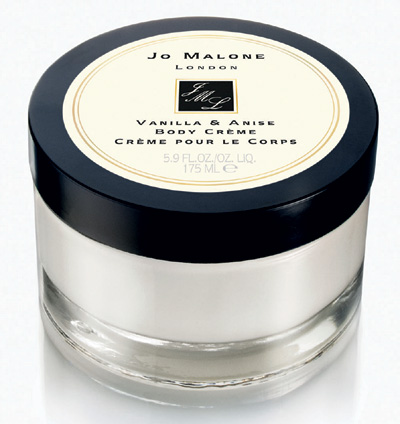 The Composition
Top Notes: Sicilian Bergamot, Tunisian Neroli, Wild Fennel Flower, Star Anise
Middle Notes: Oleander, Tuberose, Frangipani, Purple Vanilla Orchid
Base Notes: Creamy Musks, Madagascar Clove, White Amber, Vetiver Haiti, Vanilla Bourbon, Tonka
The Vanilla & Anise Collection
Cologne (3.4 fl oz; 100 ml) 100 US / 118 CAN
Cologne (1 fl oz; 30 ml) 55 US / 70 CAN
NEW Bath Oil (8.5 fl oz; 250 ml) 60 USA / 72 CAN
NEW Body Crème (5.9 fl oz; 175 ml) 75 USA / 90 CAN
NEW Home Candle (200g) 65 USA / 75 CAN
Available March 2010 at Jo Malone Shops, jomalone.com, specialty stores including Bergdorf Goodman, select Neiman Marcus and Saks Fifth Avenue stores nationwide. Available exclusively at Holt Renfrew in Canada.