New York Fashion Week Fall/Winter 2010 REPORT: The Susan Woo Fall/Winter 2010 fashion show took place on February 13th, 2010, on the 25th floor of the Bryant Park Hotel. As soon as I arrived I spotted lovely Olivia Palermo star of MTV's The City. Dressed in black leather pants, black jacket, and yes, black shoes. I introduced myself to her and asked to photograph her. Olivia smiled and agreed and suggested she brings Susan Woo the style genius to the photo. And there we have it!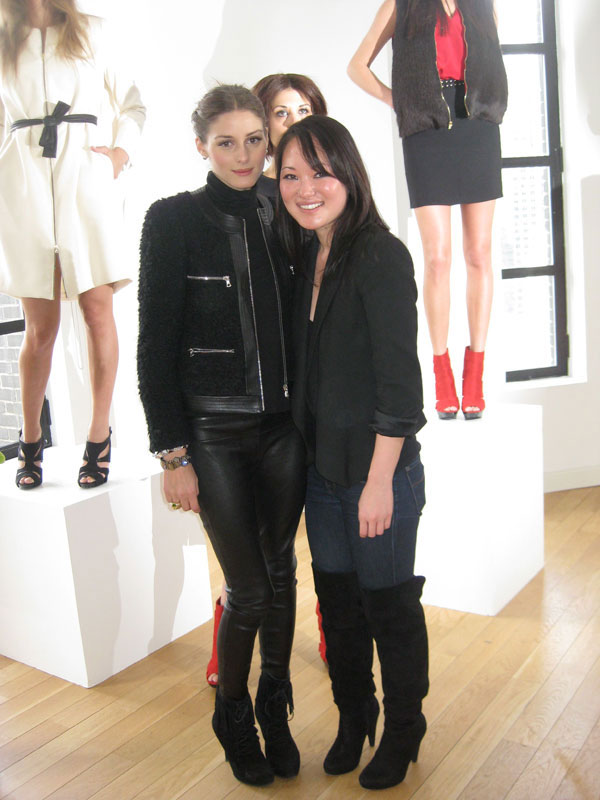 L to R: Olivia Palermo and fashion designer Susan Woo
The Susan Woo collection could be my entire personal wardrobe. All the garments were extremely elegant, with a bit of rock chic element mixed with 1960s old Hollywood movies style. I loved the Michael Antonio red high heels on some of the models. Definite inspiration for me (and you guys) t0 add one pair of hot red high heels to your closet! It breaks black nicely and adds a bit of intrigue to your look. Hair was done by Bumble & Bumble. Makeup by Tarte Cosmetics. The delicious drink at the show was by Belvedere Vodka. Visit susanwoonyc.com to explore the collections.