All Posts Tagged With: "Bumble & Bumble"
New York Fashion Week Fall/Winter 2010 REPORT: The Susan Woo Fall/Winter 2010 fashion show took place on February 13th, 2010, on the 25th floor of the Bryant Park Hotel. As soon as I arrived I spotted lovely Olivia Palermo star of MTV's The City. Dressed in black leather pants, black jacket, and yes, black shoes. I introduced myself to her and asked to photograph her. Olivia smiled and agreed and suggested she brings Susan Woo the style genius to the photo. And there we have it!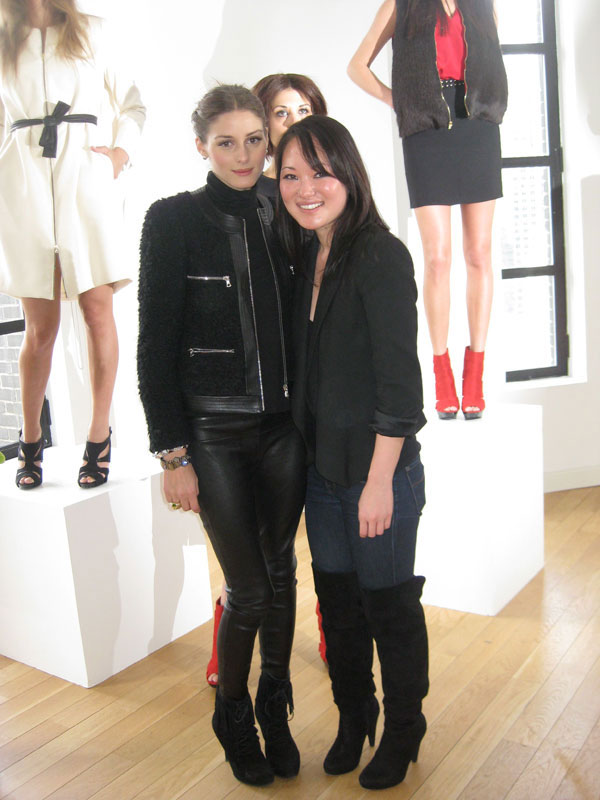 L to R: Olivia Palermo and fashion designer Susan Woo
The Susan Woo collection could be my entire personal wardrobe. All the garments were extremely elegant, with a bit of rock chic element mixed with 1960s old Hollywood movies style. I loved the Michael Antonio red high heels on some of the models. Definite inspiration for me (and you guys) t0 add one pair of hot red high heels to your closet! It breaks black nicely and adds a bit of intrigue to your look. Hair was done by Bumble & Bumble. Makeup by Tarte Cosmetics. The delicious drink at the show was by Belvedere Vodka. Visit susanwoonyc.com to explore the collections.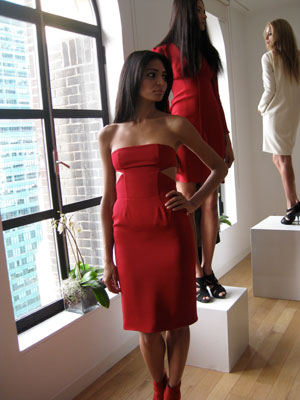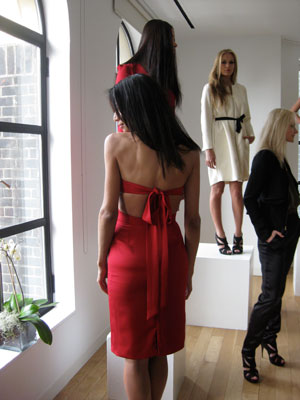 This last weekend I bought the 1875W SuperSolano Professional Hairdryer as my backup blow dryer. I can't wait to try this one. I've been using SuperSolano for years, a tip I got from a hairdresser in Bumble & Bumble salon in New York where I used to do my hair. I stop buying it because I got distracted with other brands lol. *So guys, I'm will keep you posted with my review:)
*An Update: 1875W SuperSolano Professional Hairdryer was and is THE best hairdryer I've ever owned! It's powerful so if you have long thick hair like me it will cut down drying time. It gets hair super straight and sometimes you would even want to skip on styling iron. And it's priced pretty fair, just over $100. The SuperSolano is a salon quality blow dryer at home! Perfect.
1875W SuperSolano Professional Hairdryer is available at ULTA and ulta.com. SRP: $119.
Today marks the premier of much anticipated ABC series: FlashForward. Now, I've watched the trailer and the script looks very captivating. The FlashForward story line is about what happens when everyone on Earth blacks out, only to awake and be able to foresee the future. The show was created by David S. Goyer who also wrote the screenplays for Batman Begins, The Dark Knight, and The Flash.
I'm excited to bring to you an interview with star of FlashForward, Christine Woods. Christine plays the role of Janis Hawk FBI Agent at the Los Angeles Field Office with superior analysis abilities. Her character is a bit of a tomboy with a quick wit, and was trained at the Academy with fellow agent Demetri Noh (played by actor John Cho).
In this interview Christine Woods talks to Marta Walsh about her love for acting. What attracted her to the role of Janis Hawk in the new ABC series FalshForward. Her meeting with actor Joseph Fiennes on the set. reveals what's in her makeup bag. What some people may not know about Christine and future plans.
Marta Walsh: How did you decide on a career in acting, and what were some of your first breaks as an actress?
Christine Woods: I was a singer and a dancer my whole life. I was a musical theatre major in college. I moved out to LA about 4 and half years ago and started auditioning every day. I did couple of guest stars here and there. This is honestly my first big break.
Watch ABC's FlashForward trailer here:
MW: What attracted you to Janis Hawk character on the new ABC series Flash Forward? How much of Janis' personality is similar or different to yours?
CW: I read the script, it was pretty small role. I was more taken by the script and story as a whole, and of course by the creator, David S. Goyer. David is absolutely brilliant and I love his work. I'm also very interested in strong female characters. Janis Hawk is intelligent and smart. She is a career woman. She is in a job that is predominantly male. I'm always fascinated with women who can do that. It's atypical for a woman to rise to top of the FBI world.