All Posts Tagged With: "Blue&Cream"
If you are in the Lamptons this weekend, make sure to stop by at the Charlotte Ronson Fall '09 trunk show hosted by Charlotte Ronson– this Sunday at Blue&Cream East Hampton 3-5pm!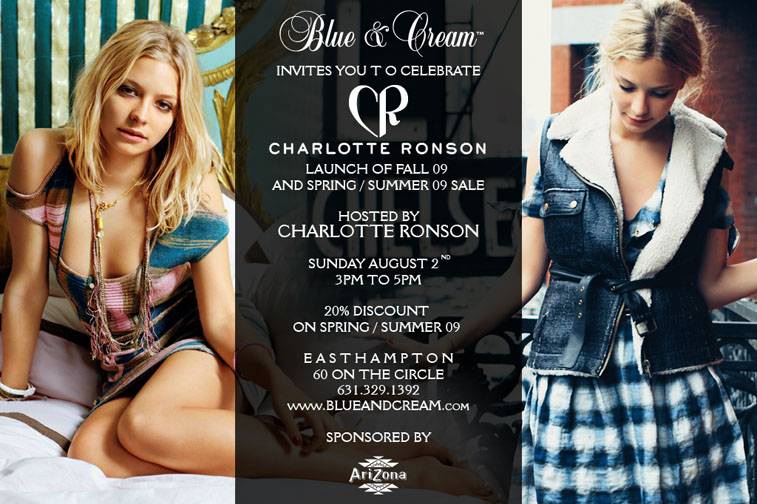 Blue&Cream's mid-summer trunkshow on the Bowery for UES brought out a mix of who's who in NY nightlife drinking Svedka mixologist Alex Ott's Summer Melon concoctions. For those underage NYC prep kids, Jessie Leavitt, PC, and Aaron Reid (son of LA Reid)- Mister Softee and the nice old Delicio Coco Helado man was on hand to serve ice cream and icey fruit treats.Eleanor Lembo started the event looking svelte in a black jumpsuit only 3 weeks after giving birth to prodigal son, Allistair. Allistair got his first taste of Blue&Cream — and he is so cute.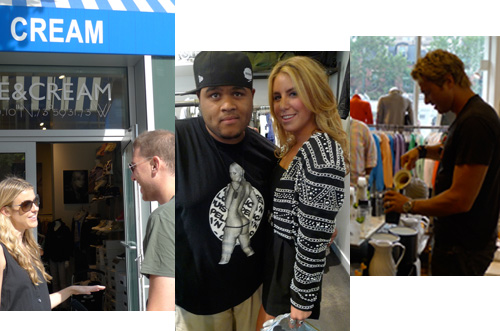 NYC prep kids:Jessie Leavitt (center)
Socialites Alexandra Richards and Laura Katzenberg posed under the picture of Patti Hansen (Alex+Theo's mom) which is hanging from Patrick Mcmullan's Big Picture photo exhibition. Later Alexandra met Nick Cohen at the dj booth to spin a set.
Blue&Cream would like to share with you this fabulous event coming up with Upper Echelon Shoes. UES sneakers are already a favorite amongst celebs such as Miley Cyrus, Kate Moss, Carmen Electra, Fergie, Paris Hilton, Shannon Doherty and Alexandra Richards!