All Posts Tagged With: "Nail Colour"
CHANEL is all about jade this season! From nail polish and perfume all the way to jade colored pants. Jade was never so major:)
The Inspiration: "In the middle of black and white, I found it pretty to add a splash of pale green."-Karl Lagerfeld.
The CHANEL Jade With Envy collection:
CHANEL Nail colour in Jade: This mineral inspired shade transforms nails into genuine gems and recalls the jade jewelry and pistachio tweed of the Autumn/winter 2009-10 Ready-to-Wear Collection.
CHANEL Cristalle Eau Verte: "It's a delicious jasmine and lemon scent with aqueous fresh, green notes."-Jacques Polge, CHANEL.
CHANEL black satin and jade 'ring' shoe.
CHANEL 'Sublime Deco' jade and enamel ring. 
CHANEL 'Sublime Deco' cord necklace.
CHANEL black satin evening clutch with jade closure.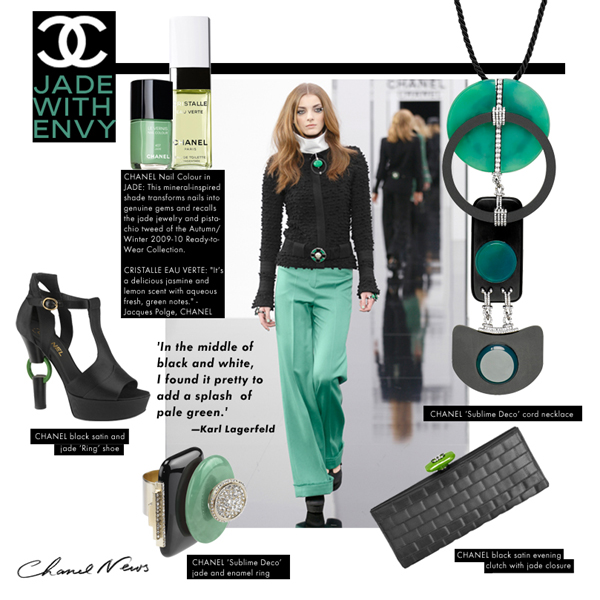 Click image above to enlarge.
Here is what's hot this simmer from CHANEL! Looks like white is in!
"With white one can never put foot wrong."-Coco Chanel
"The makeup look I created for the Haute Couture show was very carefully applied, not nude but pure-chic, soft and harmonious."-Peter Philips, Global Director of Chanel Makeup.
Click image below to enlarge.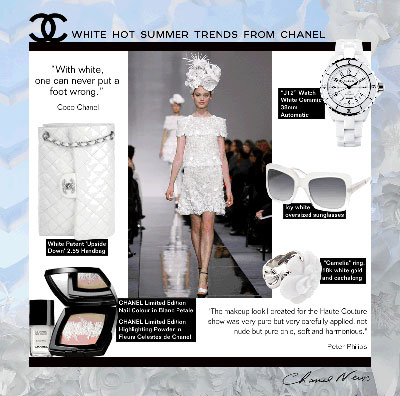 The CHANEL list:
White patent Upside Down 2.55 Handbag
CHANEL Limited-Edition Nail Colour in Blanc Petale
CHANEL Limited Edition Highlighting Powder in Fleurs Celestes de Chanel
J12 Watch White Ceramic 38mm Automatic
Icy white oversized sunglasses
Camelia ring, 18k white gold and cachalong