All Posts Tagged With: "Jacques Polge"
CHANEL takes great pleasure in announcing the arrival of Olivier Polge as Perfumer in the CHANEL Fragrance Laboratory, alongside Jacques Polge and Christopher Sheldrake. As Perfumer at IFF since 1998, Olivier Polge has developed internationally successful fragrances for a number of leading luxury brands and houses. In recognition of his creative talents, he was awarded the "Prix International du Parfum" in 2009.
Introducing the NEW CHANEL COCO NOIR. "Before me, no one would have dared dress in black," Gabrielle Chanel once said. Black, an iconic colour of CHANEL, now inspires a luminous new fragrance for women: COCO NOIR. Striking top notes of Grapefruit and Bergamot accentuate the floral accord with Rose and Jasmine, while Indonesian Patchouli and Sandalwood notes add warmth to the seductive scent.
Created by CHANEL Master Perfumer Jacques Polge, COCO NOIR marks a return to Oriental fragrances for the House. Recalling his journey to unveil the mystery of black through fragrance, Polge explains, "The night vision of the Orient that starts and ends in Venice imposed itself upon me, and that is where I wanted to go."
Historical images of Coco Chanel in Venice
New Fragrance: Introducing CHANCE EAU TENDRE Eau de Toilette by CHANEL.
A new facet of CHANCE is born — the third generation of the CHANCE Fragrance family. CHANEL Master Perfumer Jacques Polge has created a new fragrance constellation that is a whirlwind of tender and vibrant notes. This incarnation of the decidedly youthful scent reveals itself to be both delicate and airy, with an intoxicatingly light, fruity trail. An unexpected mingling of grapefruit and quince meets the crispness of fresh green notes, while a trace of Jasmine Absolute lingers in the air. Gently warmed by a sheer veil of White Musk, CHANCE EAU TENDRE Eau de Toilette is at once innocent and seductive, for those who dare to dream anew.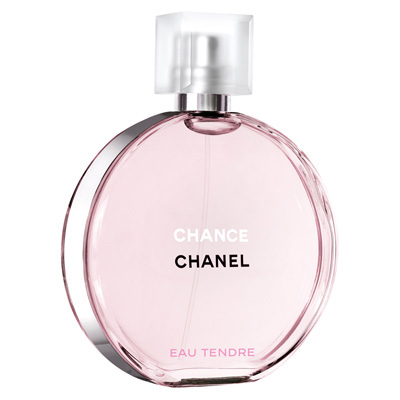 CHANEL CHANCE EAU TENDRE Eau de Toilette: $65.00 for 1.7 oz., $90.00 for 3.4oz.
On counter: March 2010 at Nordstrom, Bloomingdale's Soho & 59th Street in New York City, CHANEL boutiques and Chanel.com
April 2010 at all CHANEL counters in department and specialty stores
CHANEL is all about jade this season! From nail polish and perfume all the way to jade colored pants. Jade was never so major:)
The Inspiration: "In the middle of black and white, I found it pretty to add a splash of pale green."-Karl Lagerfeld.
The CHANEL Jade With Envy collection:
CHANEL Nail colour in Jade: This mineral inspired shade transforms nails into genuine gems and recalls the jade jewelry and pistachio tweed of the Autumn/winter 2009-10 Ready-to-Wear Collection.
CHANEL Cristalle Eau Verte: "It's a delicious jasmine and lemon scent with aqueous fresh, green notes."-Jacques Polge, CHANEL.
CHANEL black satin and jade 'ring' shoe.
CHANEL 'Sublime Deco' jade and enamel ring. 
CHANEL 'Sublime Deco' cord necklace.
CHANEL black satin evening clutch with jade closure.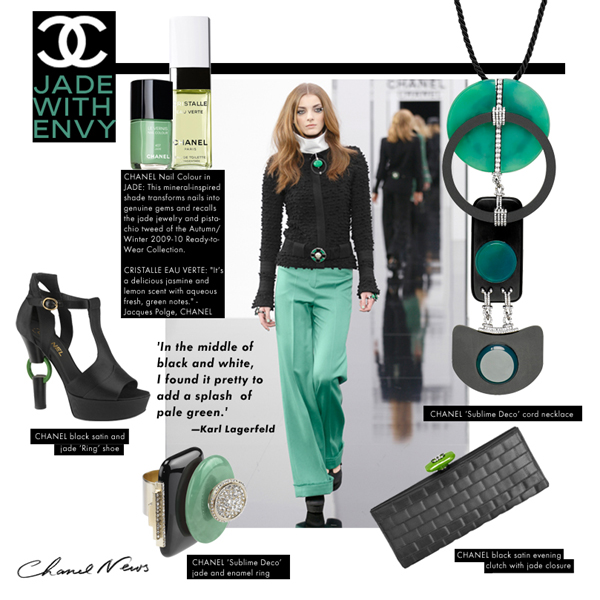 Click image above to enlarge.