All Posts Tagged With: "Gabrielle Chanel"
On Tuesday, July 4, 2017, CHANEL unveiled its new fragrance GABRIELLE CHANEL during a private reception at the Palais de Tokyo in Paris. Ambassadors and friends of the House in attendance included Kristen Stewart, the face of GABRIELLE CHANEL, Pharrell Williams, Katy Perry, Cara Delevingne, Caroline de Maigret, Rowan Blanchard, Stella Maxwell, Stella Tennant and many more in the presence of Karl Lagerfeld.
Chanel  is pleased to announce Kristen Stewart as the face of the new Gabrielle Chanel fragrance.
Introducing the NEW CHANEL COCO NOIR. "Before me, no one would have dared dress in black," Gabrielle Chanel once said. Black, an iconic colour of CHANEL, now inspires a luminous new fragrance for women: COCO NOIR. Striking top notes of Grapefruit and Bergamot accentuate the floral accord with Rose and Jasmine, while Indonesian Patchouli and Sandalwood notes add warmth to the seductive scent.
Created by CHANEL Master Perfumer Jacques Polge, COCO NOIR marks a return to Oriental fragrances for the House. Recalling his journey to unveil the mystery of black through fragrance, Polge explains, "The night vision of the Orient that starts and ends in Venice imposed itself upon me, and that is where I wanted to go."
Historical images of Coco Chanel in Venice
CHANEL introduces Summer 2010 Makeup Collection.
Bold and audacious, Gabrielle Chanel pushed the boundaries of style. Now Peter Philips continues the tradition by creating a free-spirited makeup collection inspired by an idyllic seaside vista: LES POP-UP DE CHANEL, fresh new cult-worthy hues for lips and nails. Vibrant pops of color, including neon pink, sunny coral and brilliant turquoise are beautifully complemented by bronzed, glowing skin…and sure to be the standout shades of summer. On counter: May 2010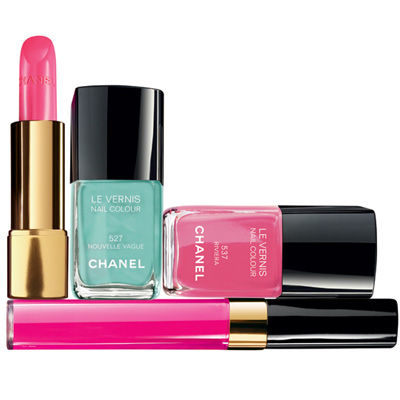 Available at www.CHANEL.com, CHANEL boutiques and department stores.
CHANEL Holiday Beauty Guide 2009:
Holiday Makeup Collection: The CHANEL Makeup Studio takes a flight of fantasy this holiday season, inspired by Gabrielle Chanel's fascination with the brilliant plumage of exotic birds. Their lush beauty is captured in an enchanting holiday collection with shades of flamingo pink and peacock blue – accented with shimmering tones of green-gold, copper and teal
$23.00 – $56.00 at www.chanel.com , department stores and specialty stores
Les Minis de CHANEL Makeup Brush Set: The essential brush collection from Peter Philips, Global Creative Director for CHANEL Makeup. This travel friendly set includes six key brushes in small sizes: Powder Brush, Blush Brush, Concealer Brush, Eyeshadow Brush, Eyeliner Brush and Lip Brush.
$120.00 at chanel.com and specialty stores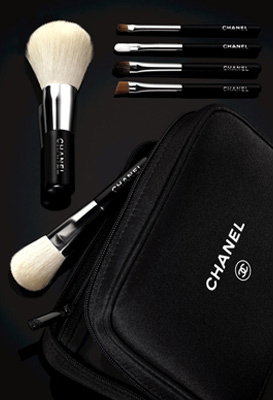 CHANEL Introduces Fall 2009 Venice Makeup Collection:
As a city built on water, Venice was a source of great intrigue for Gabrielle Chanel. She saw it as simultaneously dramatic and fragile – qualities she herself possessed. With the imagination of the CHANEL Makeup Studio, Venice comes to life in a palette reflective of the city's shimmering facades and mosaics, and the sparkling aquatic colours of its lagoons. As seen in the runway looks created by Peter Philips, Global Creative Director of CHANEL Makeup, at the 2009/10 Cruise Collection show, held on the beaches of Venice, Italy, rich sienna and deep rose tones, and dusky greys and greens combine for a modern look that can be softened for day or emboldened come evening.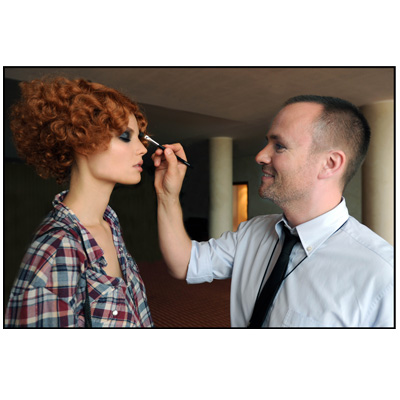 EXCLUSIVE CREATION:
EYE GLOSS LUMINOUS CREAM QUADRA EYE SHADOW Limited Edition