All Posts Tagged With: "Vivienne Westwood"
VIVIENNE WESTWOOD RED LABEL. "NEO NEON NYMPHS…ETHEREAL BASE, AMAZING AND BRUISED COLOURS, AIRBRUSH."-ALEX BOX
Vivienne West Red Label Spring 2012: London Fashion Week
Here's how to with MAC makeup…
London Fashion Week Fall Winter 2011. Vivienne Westwood Red Label, look 1
"I've been calling it 'noble naivity' – it's taking the soft, sculpted, shaded beauty of an 18th century painting then giving it a whimsical, light sense of humour, as if a child has graffiti'd all over it."-Alex Box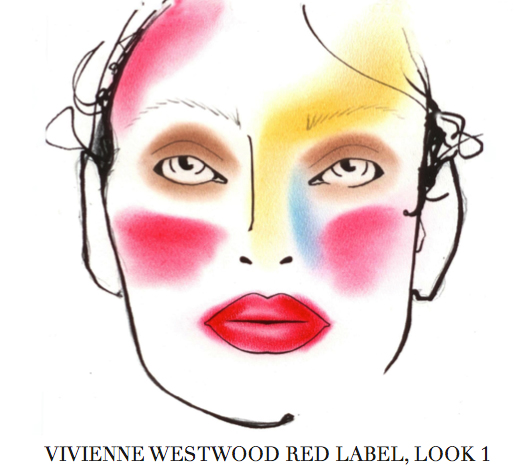 Makeup face chat by MAC
Eye
Shag eye shadow – softly blended into the socket line and in a rounded shape around the eyes, applied with a 224 brush quarry eye shadow – blended softly above the socket line (no foundation on or around the eyes) frozen white pigment – heavily in the inner corners of the eyes with brush 239
London Fashion Week SS 2011. Designer: Vivienne Westwood Red Label. "This is a makeup that starts off with a totally pretty base…and then we go nuts with colour on it! The final result is more like an impressionist painting."-Gordon Espinet for MAC Cosmetics.

Vivienne Westwood makeup face chart by MAC
How to using all MAC products:
Anyone who loves makeup is excited about Friday's opening of Tim Burton's "Alice in Wonderland." Lancôme ambassador Anne Hathaway portrays the White Queen, a role she was perfect for given her porcelain complexion.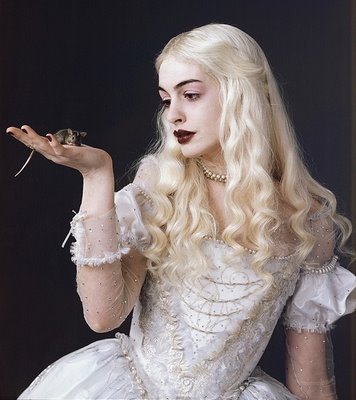 Anne Hathaway's gorgeous skin was the focal point of her look at the London premiere of the film last week (as you can see in the picture below). Makeup artist Kate Lee did the honors and also focused on Anne's radiant eyes and smile. The dress, in case you're wondering, is by Vivienne Westwood.