Waiting List Grows for Dolce & Gabbana Lipstick Fashion Week's Favorite Shade, Dahlia, Sells Out Before Debut at Saks Fifth Avenue.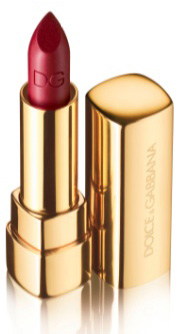 The debut of Dolce&Gabbana The Make Up during Milan Fashion Week has piqued the interest of fashion and beauty lovers prior to its U.S. arrival, and with this anticipation the collection's Classic Cream Lipstick in Dahlia has emerged as an instant favorite. The deep red shade premiered on Dolce&Gabbana's Fall/Winter 2010 runway and now Dahlia has garnered a wait list at Saks Fifth Avenue nearly a month prior to the official on-counter date of April 24.
Dolce&Gabbana The Make Up will launch exclusively in the United States at Saks Fifth Avenue in New York City, and will reach Saks Fifth Avenue Beverly Hills, and Saks.com by mid-May.
Domenico Dolce and Stefano Gabbana translated 20 years of fashion into their first makeup collection, pulling colors and influences directly from their runway collections and many inspirations over the years. The designers worked with renowned makeup artist, Pat McGrath to help realize their vision; the result is a multi-faceted collection suited to the natural femininity and sensuality a woman aims to capture. Dahlia is one of twenty-seven shades in the Classic Cream Lipstick range that is reminiscent of the inherent glamour of the 1950s with a delicate fragrance, and velvet, moisturizing texture.
On Saturday, May 16, Pat McGrath will share beauty tips and demonstrate makeup application techniques highlighting the collection at the Saks Fifth Avenue flagship on Fifth Avenue from 12:00pm-5:00pm.