Last year (2008) I've interviewed my favorite TV host Giuliana Rancic for Beauty Interviews Talking Makeup's celebrity beauty section. I would like to share with you my interview with Giuliana just in case you've missed it.
Giuliana Rancic is the beautiful host we know from E!News. Her Style network reality show Giuliana & Bill with hubby Bill Rancic just got picked up for another season! In this interview Giuliana shares with us some of her beauty secrets, her favorite way to relax, and why she is trying to convince her E! bosses to let her take a week off.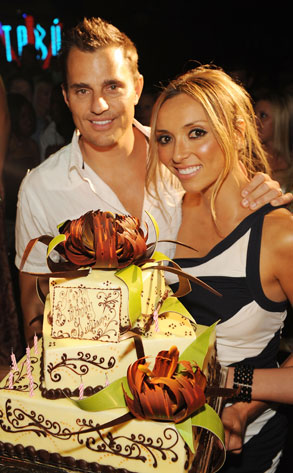 Giuliana Rancic with husband Bill Rancic
Photo credit: Getty Images and www.dailymakeover.com
I keep my hair beautiful thanks to… Kerastase hair products.
My favorite skincare products are… Patricia Wexler MD. I use her moisturizing eye cream and cleansers religiously. At night, I use DDF's foaming face cleanser. It's a magical blue liquid that keeps my skin so clean.
I get my eyelashes looking long, full, and sexy using .. MAC Pro Lash in Coal Black
The best lip-gloss I ever owned is .. MAC Pink Lemonade
My signature fragrance is .. Quelques Fleurs perfume
The one beauty product you will always find in my purse is .. Lorac Bronze.

Image via: evilbeetgossip.film.com
My number one beauty secret is … monthly deep facials by Gina Jensen at Dangene McKay Bailey in Los Angeles.
The celebrity I find most beautiful is .. Angelina Jolie
My favorite way to relax is .. to watch Discovery Channel and CNN in bed with my husband
The city I love the most is .. Naples, Italy, my birthplace. In the US, I am torn between Chicago and Los Angeles
One or two things some people may not know about me .. is that I refuse to work out after work, you will find me at the gym week days at 5am!
I am currently working on .. trying to convince my E! bosses to let me take a week off to go to the Ashram in Calabasas, CA