Ginnifer Goodwin, star in the HBO series "Big Love" has made her mark in Hollywood on the red carpet at last nights 2009 Emmy Awards! mark celebrity makeup artist Mai Quynh explains how she created Ginnifer's gorgeous red carpet look.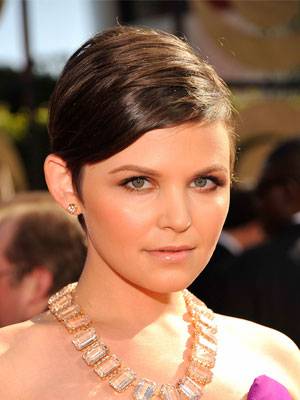 How to Get Ginnifer's Red Carpet look:
Face: "Ginnifer wore a beautiful, Fuschia strapless dress, so we wanted to keep her look more neutral, but focused on her eyes. To get her look, I started by applying mark Face Xpert Flawless Touch Makeup in Buff with a foundation brush. I then applied mark Get Bright Hook Up Highlighter in Light above her cheekbones and mark Good Riddance Hook Up Highlighter in Fair/Light under her eyes. Once the foundation and creams were applied, I set everything by dusting mark Matte-Nificent in Buff/Natural with a powder brush. And finally, to give her a warm glow, I swept mark Good Glowing Mosaic Blush in Hush Baby on her cheeks using the blush/bronzer brush."
Eyes:  "For her eyes, I started by applying mark Winkstick Hook Up Eyeshadow Stick in Glitzy to her entire eyelid. Next, I layered mark I-Mark Custom Pick Eyeshadow in Tiki from her lash line to the crease using an eyeshadow brush. I then blended mark I-Mark Custom Pick Eyeshadow in Espresso into the crease of her eyes using an angled contour eyeshadow brush and smudged Tiki along her bottom lash line using an eyeliner brush. I finished by applying two coats of mark Make it Big Lash Plumping Mascara in Raven."
Lips: "I completed Ginnifer's look by layering mark Dew Drenched Moisturlicous Lip Color in Skinny Dip and mark Pro Gloss Lip Plumping Lip Shine in Swell to her lips."
Visit www.meetmark.com to learn more about mark cosmetics!