When I began blogging about 5 years ago now I wanted to interview Ted Gibson of the Ted Gibson Salon. For some reason it never happened. However, to my luck, years later I managed to meet Mr Ted Gibson at his hair care product launch & Vanity Fair party in New York City. Sweet destiny. Moreover, over these years during my visits to New York Fashion Week I got to know his partner, Celebrity Colorist, and co-owner of Ted Gibson Salon Jason Backe. This duo is the Rock Stars of hair styling, coloring, and hair salon business. Few weeks ago Jason and I met in Phoenix at Sanctuary Camelback Mountain Resort & Spa one of my favorite places in the world where we got to catch up on life and business. I would like to share with you my Q&A slash interview with the fabulous Mr Backe.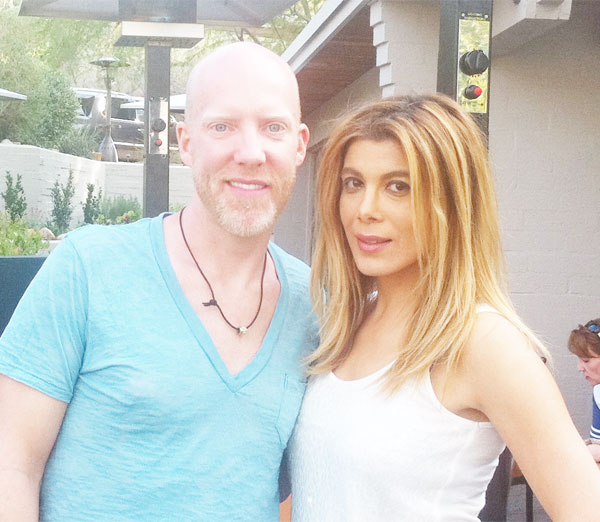 L to R: Celebrity Colorist and Ted Gibson Salon New York City Co-Owner Jason Backe with TalkingMakeup's founder & North Scottsdale REALTOR Marta Walsh at the Camelback Mountain Resort & Spa Paradise Valley Arizona
Marta Walsh: Where do you call home?
Jason Backe: I am a native Minnesotan – a good Midwestern boy – but now I call New York City home. When did your fascination with hair and hair styling begin? I have loved it my whole life, my mom recently gave me a picture of me giving my younger sister a perm when I was about 7 years old. I didn't make it a career until about 15 years ago.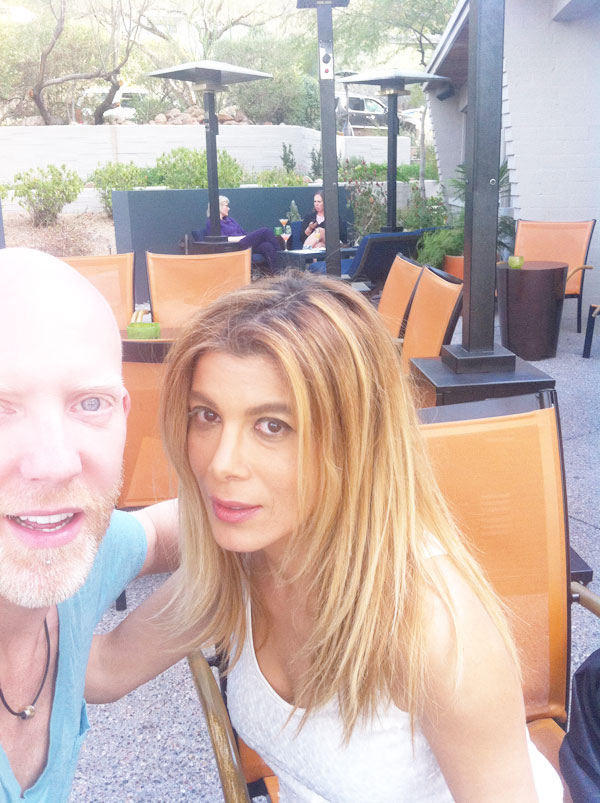 L to R: Jason Backe and Marta Walsh
MW: At one point did you realize that you are no longer just any hair colorist but a top colorist?
JB: Hmmm, that's a good question. I think I started realizing it when I started getting recognized by the top magazines.
MW: What do you attribute to your success?
JB: I love what I do, I say yes to just about everything and Im not afraid of hard work.
MW: How did your partnership with Ted Gibson come about and what makes it work?
JB: Ted was my teacher in beauty school – trust me I have now heard every "hot for teacher" joke in the world. We work well together because he is a visionary and great at coming up with concepts and ideas and I learn from him every day. I balance that out by loving the routine of day to day business. He comes up with the ideas and I come up with systems to help implement them.
MW: What was your experience like having a part in the hit Bravo realty series Real Housewives of DC?
JB: It was a lot of fun. I made some wonderful friends and got the opportunity to see first hand how those things are made. It was a pretty outrageous experience.
MW: Who would be your dream housewife to style hair?
JB: My mom and sister – although they are both career women too 😉
MW: What makes Ted Gibson Salon in New York City stand out from the rest?
JB: We have a few things that are our business code –
1. we only work with nice people we like
2. we know that beauty is individual – that there isn't one standard of beauty. We know if you feel pretty, you are pretty and our job is to make the girls feel pretty
3. It's not about the hair, it's about the experience. People come into our salon EXPECTING beautiful hair, they aren't necessarily expecting to be treated nicely – high end salons have a reputation for being snobby. In order to be successful in NYC the women have to love being at our salon and want to come back.

Jason Backe at his element backsatge with model
MW: What are your 3 most important hair coloring tips?
JB: Find a hair dresser you love and be loyal, through that relationship you can have someone who encourages you to try new things and see your beauty in a way you didn't think was possible. Visit the salon regularly so your hair always looks amazing (letting it go too long can make you look cheap – hehe). Change it up – try new colors and new styles, your hair is your biggest accessory not a tattoo – its fun to try new thing.
MW: And what 3 hair care products or tools you just can't leave without?
JB: 1. INOA – the new ammonia free permanent hair color from L'Oreal Professionnel. It is the most revolutionary hair color to come out since hair color was invented 100 years ago.
2. Bleach – it is the most versatile tool as a colorist (if I was trapped on a deserted island with 100 pageant queens and could have one product this would be it!) – Unfortunately it is also the most misused product so it gets a bad reputation.
3. Fibersutics – an incredible new in salon deep conditioning treatment. It only takes a few minutes and literally REBUILDS the hair that has become damaged.
MW: What and who inspires you?
JB: I am inspired by so many different things – I was at a meeting the other day and was thinking about Dr Seuss and Whoville and how that would work in hair color! I also love the city I live in and it feeds me energetically, spiritually and creatively every day. I also have to get away, going to my house in the Catskills of Upstate New York really inspires me. My staff inspires me – their eagerness to be the best in the business inspires me every day to be the best I can be.
MW: Brad Pitt or George Clooney?
JB: Ted Gibson 😉
MW: What beauty means to you?
JB: For me, beauty is all encompassing – a well balanced lifestyle, staying fit, eating good food, playing outside – hiking, camping, travel, etc. All of those things make me feel beautiful. When I feel beautiful I know I am beautiful.
MW: What one or two things some people may not know about Jason Backe?
JB: I love to go to the barber for a shave and my skin always looks its best when I use the shower gel at the gym.
MW: What is your favorite drink?
JB: A Hendricks Gin martini with a slice of cucumber to garnish.
MW: What new and next with Jason Backe?
JB: We are opening a salon at the W Hotel in Ft. Lauderdale Florida – that's new… Next? I'm open….we'll see.
I would like to thank Jason Backe for a brilliant interview. We love you and it's major <3