All Posts Tagged With: "Jason Backe"
Hello Loves:) I'm thrilled to share with you my interview with Jay Olson the Artistic technical trainer for L'Oreal Professionnel Arizona, and Owner Inizio salon www.iniziosalonscottsdale.com. What made me notice Jay and and be so intrigued by him is his passion to the business and thinking big. Jay seems as though he is taking hair dressing and styling to the next level. Not just work but big career. Being the best at what you do , you see, is what makes one successful. And I love success stories.
In this interview Jay Olson talk so Marta Walsh about when he first fell in love with hair styling, what sets his Hair salon Inizio Salon in Scottsdale Arizona apart from the rest in the Valley, tells all about Balayage, answers the million dollar question: Can anyone be blonde, what he likes most about living in Phoenix Arizona, inspirations and future plans.
Marta Walsh: Where do you call home?
Jay Olson: I love calling Scottsdale my home. Being born and raised in Arizona, it feels good to be close to family and friends all while doing what I love.
When I began blogging about 5 years ago now I wanted to interview Ted Gibson of the Ted Gibson Salon. For some reason it never happened. However, to my luck, years later I managed to meet Mr Ted Gibson at his hair care product launch & Vanity Fair party in New York City. Sweet destiny. Moreover, over these years during my visits to New York Fashion Week I got to know his partner, Celebrity Colorist, and co-owner of Ted Gibson Salon Jason Backe. This duo is the Rock Stars of hair styling, coloring, and hair salon business. Few weeks ago Jason and I met in Phoenix at Sanctuary Camelback Mountain Resort & Spa one of my favorite places in the world where we got to catch up on life and business. I would like to share with you my Q&A slash interview with the fabulous Mr Backe.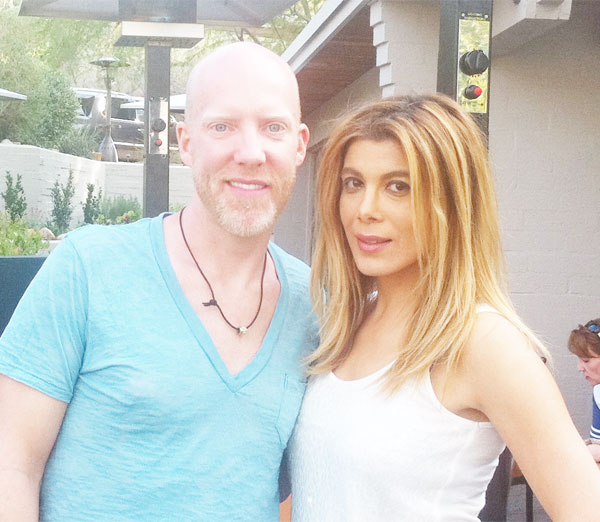 L to R: Celebrity Colorist and Ted Gibson Salon New York City Co-Owner Jason Backe with TalkingMakeup's founder & North Scottsdale REALTOR Marta Walsh at the Camelback Mountain Resort & Spa Paradise Valley Arizona
Marta Walsh: Where do you call home?
Jason Backe: I am a native Minnesotan – a good Midwestern boy – but now I call New York City home. When did your fascination with hair and hair styling begin? I have loved it my whole life, my mom recently gave me a picture of me giving my younger sister a perm when I was about 7 years old. I didn't make it a career until about 15 years ago.
Sought-after colorist and co-owner of the Ted Gibson Salon, Jason Backe, will serve as Creative Consultant to TouchBack, Streekers and ColorMark, acting as a voice of the temporary hair color brands and a liaison to both the media and consumers. In his capacity as Creative Consultant, Jason will bring his salon expertise to the at-home color formulas, sharing tricks and techniques for achieving salon-quality results with the complete range of products. From the fun, lively shades of Streekers to the undetectable gray coverage of TouchBack and ColorMark, Jason will offer insight into maximizing the impact of the temporary colors.

Jason Backe
"I'm so excited to be the voice of products that empower women to be their own colorists between salon visits," says Jason. "TouchBack, Streekers and ColorMark all give women the ability to experiment and play, which is what hair color is all about. When used correctly, these formulas can really add dimension and give hair new life."
Over the course of the past decade, Jason has established himself as one of New York's most in-demand color artists. From editors and models to actress and executives, clients flock to Jason for his chic, complementary color. Jason has brought his attention to detail and artistic expression to high-profile clients like Ashley Greene, Anne Hathaway, Lake Bell, Rene Zelweger, Elettra Weideman, Idina Menzel and Amerie as well as campaigns for Dolce & Gabbana, Calvin Klein, Chanel and Versace.