Talking Makeup just got the scoop that Musician Natasha Bedingfield swears by the Elizabeth Grant Vitamin C Eye Pads to keep her looking rested and refreshed while on the road, doing press, and just living a busy life. She even enjoyed them as a "perfect travel tool" on her honeymoon!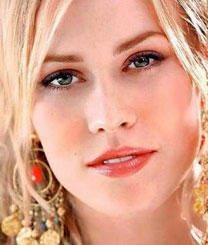 Other Elizabeth Grant celebs fans: Brooke Shields, Jennifer Lopez, Rosario Dawson.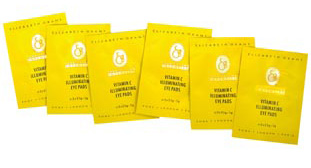 Between stress and lack of sleep, today's hard working women have to deal with the threat of wrinkles and dark circles. Those worries will now be a thing of the past with Elizabeth Grant's Vitamin C Eye Pads!
The quick and easy treatment helps to lessen dark circles, bring puffiness down and generally brighten up the under-eye area in only 15 minutes! With Vitamin C to ward off free radicals, Chamomile to soothe and Torricelum (Elizabeth Grant's exclusive superior moisturizing compound) to moisturize, the end result is an awake, clean feeling. These convenient pads are great to use right after your shower to start off the day right, looking rested and radiant. They also travel extremely well due to the individual foil packaging, so you can get rejuvenated anytime, anywhere! Whether it's to freshen up after the gym or to rehydrate you during a long flight, these perfectly sized little miracle- workers are sleek, small and ready to travel.
You simply apply the pads under the eyes and remove after 15 minutes. Using light pressure, pat the remaining emulsion into the skin eye area. Follow up with Elizabeth Grant Vitamin C Eye Cream to give your eyes a perfectly pampered youthful look! Retail $50 USD, for a package of 6 pairs.