NARS Cosmetics created the makeup look at the Marchesa SS2010 show.
Lead Artist: Talia Shobrook for NARS Cosmetics
Trend: Long Feathered Lashes
Inspiration: The inspiration behind the collection came from Madame Butterfly. "I wanted to capture the real look of Japan, create layers and bits of origami," said designer Georgina Chapman. The whimsical creations based in sculpted layers balanced the soft, bare faces that were accentuated with long lashes.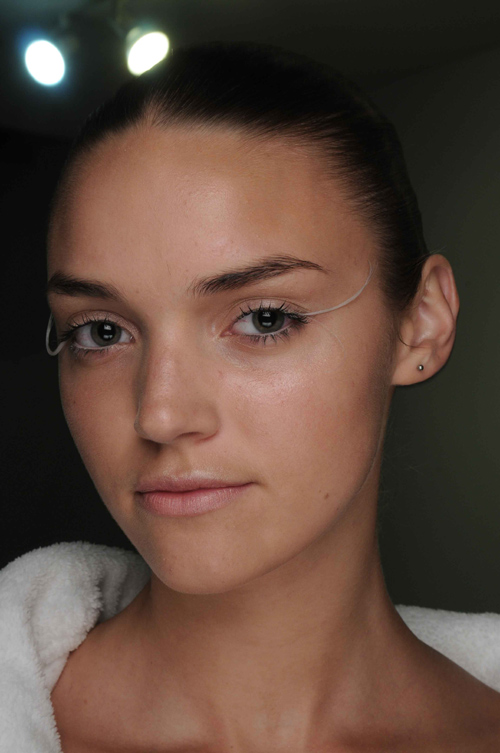 Look: Very simple, romantic and beautiful skin contoured with varying formulas. "We contoured the skin with matte and shimmery textures and added feathers to the eyes to provide dimension to the face," explained lead artist Talia Shobrook. A matte face was illuminated with a bit of shimmer. Feather lashes, custom created by NARS from the feathers on the Marchesa dresses, gave excitement to an otherwise simple look.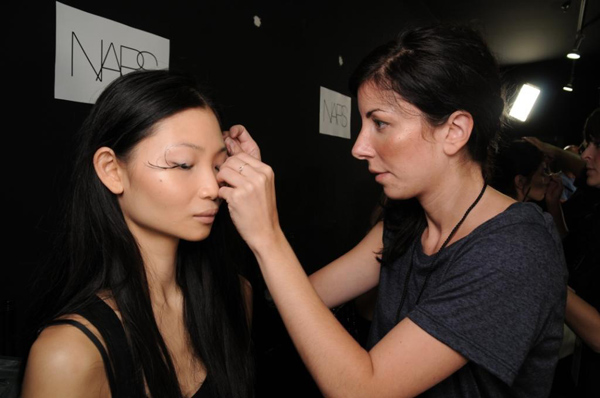 Below are some key products and steps for recreating the look:
Face:
-Mix NARS Sheer Matte Foundation with NARS Orgasm Illuminator (NEW for Spring 2010) and gently blend all over the face
-Apply NARS Concealer under the eyes and only where redness shows
-Using fingers, apply NARS Luxor Multiple (NEW for Holiday 2009) across the cheekbone
-Apply NARS Powder Foundation under the eyes and to the center of forehead
-With a NARS Yachiyo Kabuki Artisan Brush contour the cheeks with NARS Nepal Single Eyeshadow
-Apply a mixture of both shadows from NARS Thebes Cream Duo Eyeshadow on the cheekbones, bridge of nose and on the upper temples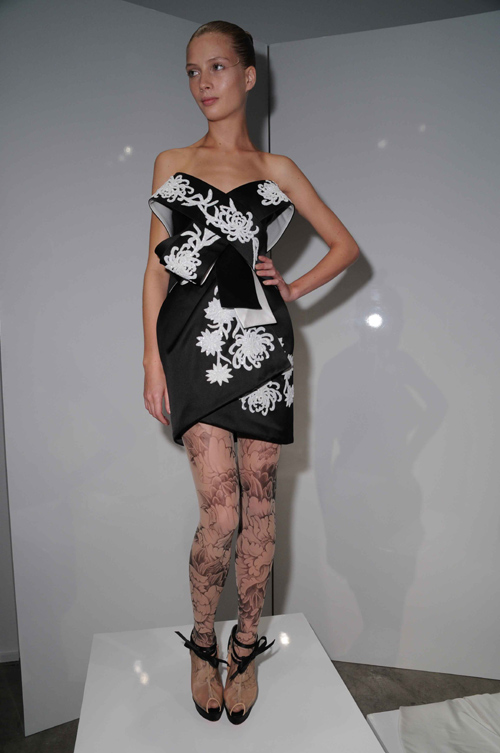 Eyes:
-Apply NARS Abyssinia Single Eyeshadow all over the eye up to the brow
-Line the top lashline, as well as the lower lash line, with NARS Iceberg Eyeliner Pencil
-Curl lashes with a NARS Eyelash Curler
-Apply one light coat of NARS Larger Than Life Volumizing Mascara on the top lashes, only
-Using clear eyelash glue, apply NARS custom-made feather lashes 
Lips:
-Apply NARS Cruising Lipstick (NEW for Spring 2010) with fingers to the lips
NARS products are available at www.narscosmetics.com