All Posts Tagged With: "Armani Beauty"
Celebs were hitting the streets of New York City last night to celebrate Fashion's Night Out. Giorgio Armani Beauty's A-Team was also out last night – getting top stars glam for a preview dinner for the Richard Hambleton exhibition, which will open September 15 and was presented by Vladimir Restoin Roitfeld and Andy Valmorbida in collaboration with Giorgio Armani.
True to the Armani aesthetic the A-list guests including, Bruce Willis and wife Emma Heming, Kerry Washington and Devon Aoki were outfitted in understated, elegant looks. The makeup was classic and featured strongly lined eyes and pinkish-nude lips. See below on how to get the looks from these celebs last night: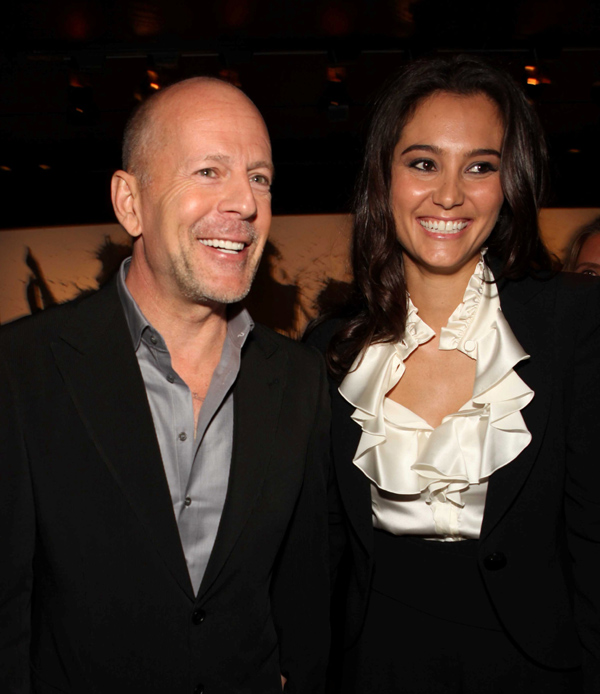 Emma Heming (above image next to Bruce Willis): Luminous Silk Foundation 7 gave Emma a dewy complexion and fluid sheer 11 was dabbed on to her cheeks to add a rosy glow. Her lids were dusted with Maestro Eye Shadow XX and Smooth Silk Eye Liner was blended along the lash line to create a dramatic smoky effect. A sweep of Eyes to Kill Mascara and a wash of nude lip shimmer were added as finishing touches to her natural glam look.
Kerry Washington: Lasting Silk UV SPF 20 Foundation 9 was swept across Kerry's face to create a matte complexion, with subtle luminosity. To add dimension, blending blush duo 4 was used for contouring and added a pop of color on the cheekbones. To add a touch of drama, maestro eyeliner and Eyes to Kill Mascara were used to define the eyes and a sweep of Lip Shimmer 59 in taupe completed the look.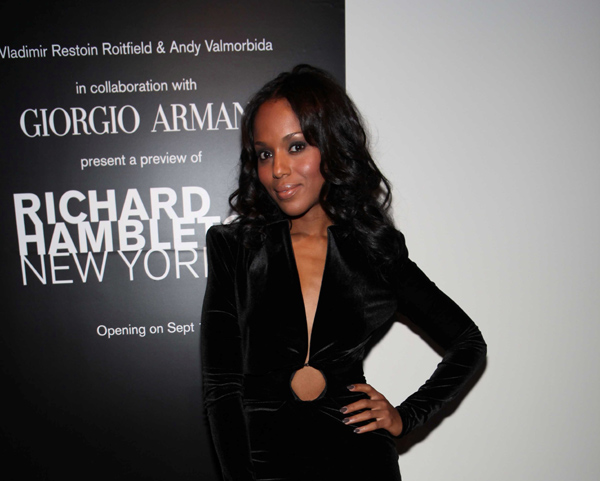 Devon Aoki: Face Fabric 3 offers sheer coverage and allowed Devon's natural glow to shine through. Sheer Bronzer 5 was applied to the cheekbones to define her look and give her complexion a sun-kissed effect. Eyes to Kill Palette 1 offers taupe and grey shades, which were used to create a subtle smoky eye with liquid liner and a sweep of mascara added to complete the look.
Victoria's Secret Sexy Little Things Give Me The Shimmers Shimmering Body Powder is one of my favorite things in the world. I know I'm a little OTT or Over The Top, but I believe I need a little sparkle in my life. I LOVE to shimmer, it cheers me up! What can I say, I'm a total girly girl.
On my last visit to NYC this July, I had an amazing opportunity to meet Tim Quinn, Giorgio Armani Beauty's top makeup artist. As soon as we shaked hands Tim asked me: "Wow. How did you get your glow?" This is what I answered: "Scottsdale Arizona sun & Victoria's Secret Sexy Little Things Give Me The Shimmers Shimmering Body Powder, thank you."
Victoria's Secret Sexy Little Things Give Me The Shimmers Shimmering Body Powder smells amazing and adds subtle shimmer to your skin.
Don't be afraid to shimmer girls:)
Since I'm a huge fan of Giorgio Armani Lasting Silk UV Foundation SPF 20, I'm very curious to try this one by Armani Beauty: Giorgio Armani Eyes to Kill Mascara.

Dress the eyes with powerful, plush, separated, voluminous lashes. Fine, fluid Micro-fil technology creates intensely captivating lash texture.