All Posts Tagged With: "Barbie"
Decked in her Victoria's Secret undies, Lorraine Schwartz ring and a sequined mini-dress and minus one obvious partner (eh-hem, Ken), a 11.5 inch Heidi Klum Barbie headed to Mercedes-Benz Fashion Week to get a different viewpoint of the backstage happenings. Her 5 foot 9-and-a-half-inch counterpart was awaiting the birth of her fourth child, so Heidi Klum Barbie offered to make the trek to New York. From designers to old friends to gossip girls, Heidi Klum Barbie mingled with the best of them at Mercedes-Benz Spring 2010 Fashion Week:

Visit www.modelinia.com for more videos
• Heidi Klum Barbie congratulated fellow Project Runway judge Michael Kors on a great show
• She sat front row at the Ann Taylor Fashion Show with Amanda Bynes and Gretchen Mol
• She compared bling with Blake Lively at Marchesa
Inspired by looks created for the first ever Barbie runway show – Fall 2009 New York Fashion Week – the new Barbie Loves Stila fall collection has everything you need to get all dolled up.
The collection is available on the Stila Cosmetics site from September 2009, and you can even snatch up the ultra-glam Barbie Loves Stila Smudge Pot and Barbie Loves Stila Lip Glaze NOW on www.stilacosmetics.com  as a special preview.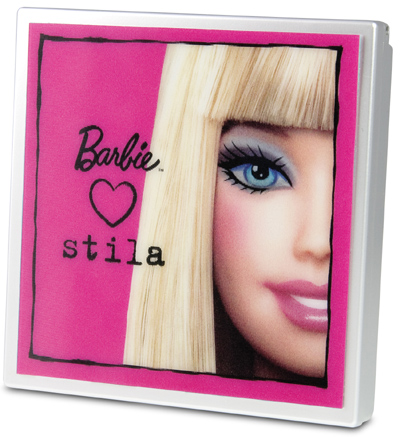 Barbie Loves Stila All Doll'd Up Palette ($28): A must-have for any glam girl, this adorable refillable compact – decorated with a lenticular of the iconic Barbie stare contains FOUR eye shadow trios (TWELVE eye shadow shades!) for endless looks and countless levels of glamour.